VESPA GENTLEMAN GIRO
WIE ZIT ERACHTER?
Markus André Mayer, 44 jaar oud en een gepassioneerde Vespa fan uit het mooie Allgäu.
In 2017 kon Markus 3 van zijn passies (Vespa, liefdadigheidswerk en social media) combineren in de Giro Germanica om ze te verenigen. Met de hulp van Vespaclubs uit Duitstalige landen was hij in staat om meer dan 25.000 euro aan donaties te genereren voor het Waldpiratencamp van de Duitse Stichting voor Kinderkanker tijdens een 42-daagse rit om geld in te zamelen. Natuurlijk was het Scooter Centrum ook een deel van zijn Giro Germanica En wij steunden de campagne.
Nu heeft Markus iets nieuws in gedachten, en het Scooter Centrum steunt hem weer. Het is een zaak van het hart voor ons! Deze keer zijn wij de hoofdsponsor en steunen en sponsoren wij zijn nieuwe missie uitgebreid.
Hier in het Scooter Center Blog zullen we u de komende maanden op de hoogte houden van de missie van dit jaar. We beginnen vandaag met de eerste presentatie van de VESPA GENTLEMAN GIRO, kijk uit naar een interview en een making-of van de motor die we voor Markus bouwen.
WAT IS DE MISSIE?
Markus heeft besloten om het hele jaar 2021 voltijds te wijden aan fondsenwerving voor kinderen met kanker. Hij zal beginnen met de 3 initiatieven om donaties te genereren voor 40 kankerorganisaties in 40 landen in Europa:
Grote Europa fondsenwerving race
10 estafettelopen in verschillende landen
1 Wereldrecord Poker Run(uitleg)
Dus voor 2021 plant hij een veel grotere actie: binnen 8 maanden wil hij de hele Europese Vespa-scene verenigen door middel van een grote fondsenwervingstocht door heel Europa met verschillende gekoppelde acties om ten minste 250.000 euro op te halen voor 40 nationale kankerstichtingen en zorgcentra. Om dit hartverwarmende project te voltooien zal hij in totaal ongeveer 14 maanden nodig hebben. over verschillende grote reisprojecten, zoals zijn
80 Dagen rond de wereld in 2018,
USA Crossing in 2017,
of Europese tournee in 2014,
was het voor hem al mogelijk om veel ervaring op te doen en vooral veel contacten te leggen met scooterrijders over de hele wereld.
De contacten met de nationale clubs in heel Europa maken het mogelijk vooraf geschikte donatiedoelen vast te stellen, zoals de Liga contra Cancro in Portugal, en de geplande acties en evenementen in de respectieve landen te coördineren. Tijdens de reis is Markus van plan 3 Guinness Book of World Records op te zetten en zo ook de belangstelling van het publiek en de media te wekken voor de faciliteiten, de clubs en de inzamelingsactie.
WAT IS DE ROUTE?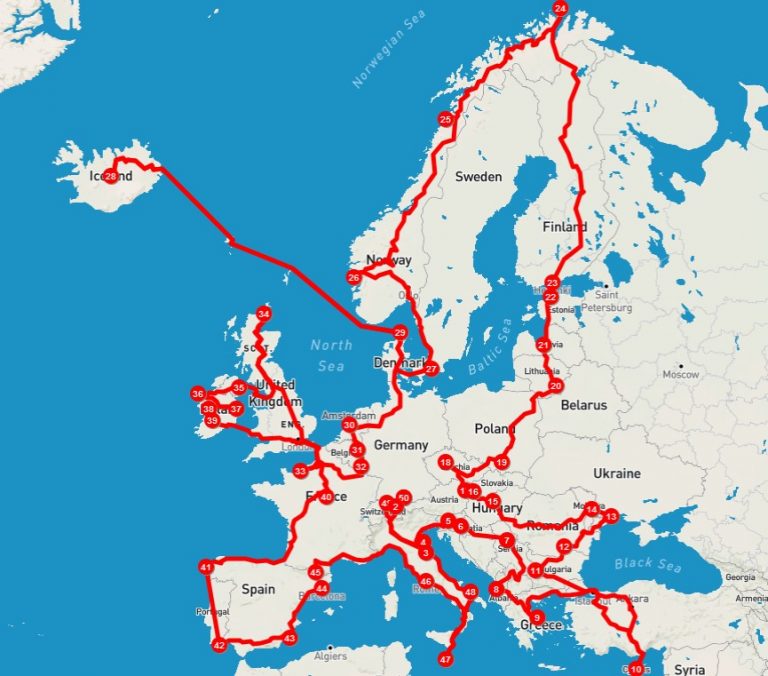 25.000 km door 40 Europese landen. De eigenlijke route zal worden bepaald door de meer dan 200 clubs die ik onderweg wil ontmoeten om donaties in te zamelen.
Ook al ziet het er op deze kaart nog niet zo uit: natuurlijk is er weer een stop bij het Scooter Center gepland, we houden jullie op de hoogte!
MET WELK VOERTUIG?
"Eleanore" – de Smallframe Vespa. Voor de tour zal hij een Vespa V50N uit 1971 gebruiken. Het zal de langste scooterrit op 50cc ooit worden!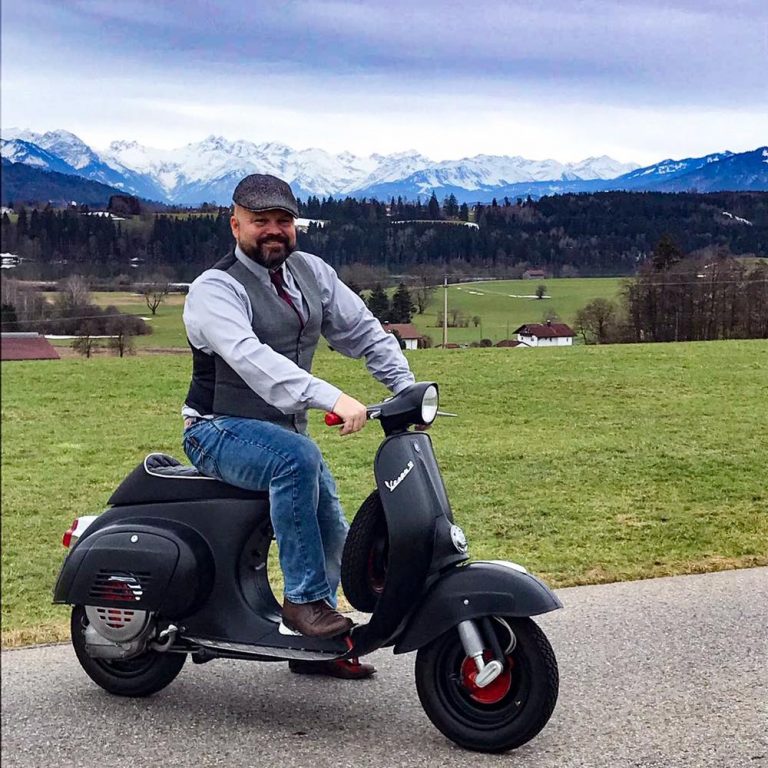 We zijn momenteel bezig met de motor van de Vespa, ben benieuwd, binnenkort meer hierover hier in de blog.
KUN JE HELPEN?
Ja natuurlijk kunt u helpen, Markus is afhankelijk van steun en is blij met donaties aan de verschillende organisaties, meer info en donatie mogelijkheid hier. Voel je ook vrij om dit bericht te delen met vrienden via Facebook, Whatsapp etc.
https://blog.scooter-center.com/wp-content/uploads/2021/04/Vespa-Gentleman-Giro-Markus-Mayer-mit-Vespa-und-Anzug.jpeg
640
960
Heiko Lepke
https://blog.scooter-center.com/wp-content/uploads/2016/04/Scooter-Cejnter-SC-Logo-2016.png
Heiko Lepke
2021-04-14 17:28:01
2021-04-14 17:28:01
25.000 KM VOOR KINDEREN MET KANKER – VESPA GENTLEMAN GIRO