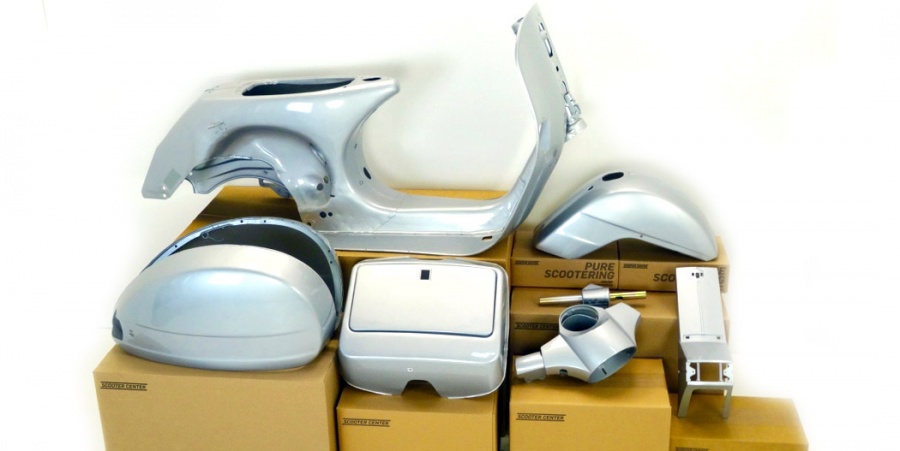 Only giving a new paint to your scooter or rather buy already painted new sheet metal parts
Getting an old scooter freshly painted is rather expensive now. Many painters have already miscalculated the number of parts that need to be painted. There is the malice of the bent style of many frames and preparations often take many hours. This is why a fair paint at € 500, if you are lucky, usually is a unique offer. Do you currently need to decide whether or not to freshly paint your scooter? Then this will be of interest to you:
new, fully painted frame
by LML.
Exceptional LML scooter parts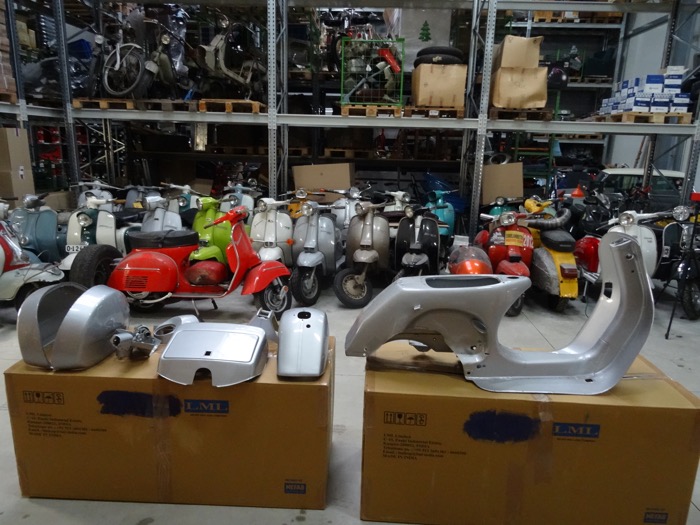 When we were offered exceptional LML parts, we remained sceptical. It was supposed to be a LML Star and NV 150. In individual parts, which were meant to be assembled in the country of its final destination.
We did some research and took a closer look at its part numbers. Which was exciting. We didn't only discover many small parts but also interesting connections. Some parts seemed to be painted in the same colour. We started to get nervous – a very interesting story.
We found out that not only some of the sheet metal parts had been painted in the same colour number, but entire sets! All painted parts you need to fully assemble a scooter were packed in an export box: COMPLETE SUCCESS
We agreed terms. Even though we had to take a deep breath first. So many small parts were included in the set. Some of which we will probably never sell.
The LML "NV150", also called "Select", and the "Star" have a good quality. The finish is a little rough sometimes, but they have been produced for the toughest conditions imaginable: the streets of India.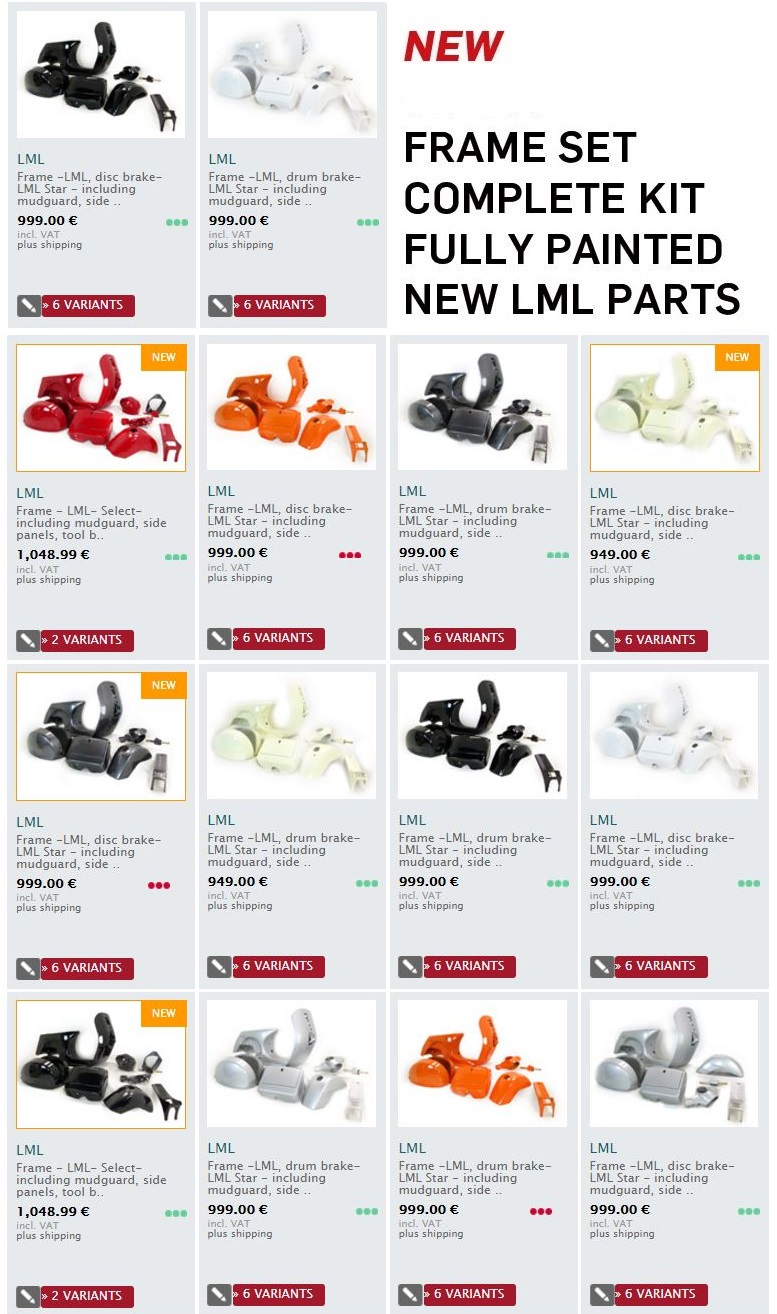 Entire set of fully parts of the LML frame
Why should you have your scooter freshly painted, when you can buy already painted sheet metal parts as a set with us?
We offer entire, new Select and Star frames, already fully painted, so that there is no need to expensively paint your old scooter:
Frame set LML Star
We offer the Star frames for disc brake or drum brake. Star frames consist of:
Frame (with internal fastener)
Two side panels (internal fastener)
Rear fender
Toolbox with flap
Horn cover
Lower part of the handlebar cover (with support either for drum brake or for disc brake)
Upper part of the handlebar cover
Gear change grip
The side panels do not have holes for lables, there are holes in the frame for stips and there are no holes in the tool box for a tray for odds and ends. Head sets have a hole in the support for the e-start button.
Colours:
We currently have the following colours on offer: pure white, ivory, graphite metallic, orange, silver and black
Frame set LML Select
The Select frames have a Star rear fender and there is a hole in the lower handlebar cover for the handlebar clamp. Select frames consist of:
Frame
Two side panels
Rear fender (Star)
Tool box with lid
Horn cover
Lower part of the handlebar cover
Upper part of the handlebar cover
Speedo bezel (not painted)
Handlebar
Gear change grip
And again no holes in tool box or side panels. But rectangular holes in the leg shield for floor mats.
Colours:
We supply entire kits in red and black for the LML Select.
Only new parts with new paint
There are NO VINs or prefixes. Please check with your responsible registration office whether it is possible to use the VIN of the damaged vehicle for the new frame. You lost the old sheet metal, but you still have the registration documents? Think about alternatives as discussed in various fora online (e.g. www.Germanscooterforum.de).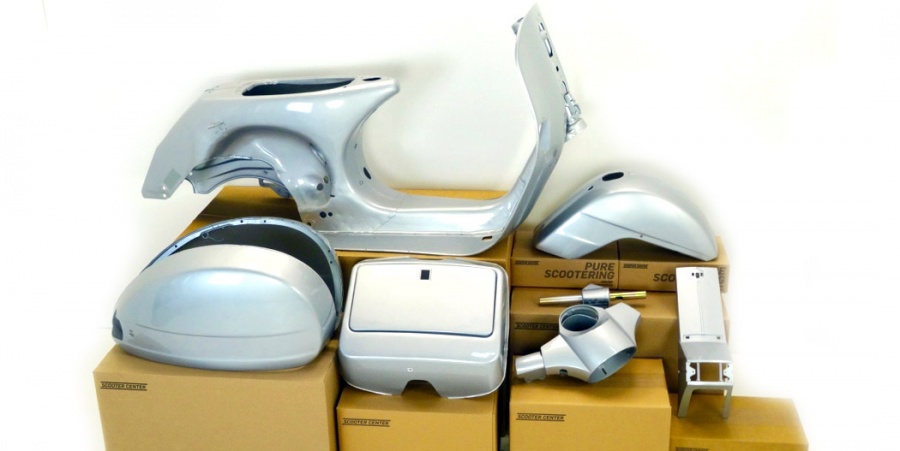 Limited availability
We bought a large amount of parts. However stocks are limited.
Quality
The quality of paint is usually OK but not perfect: small scratches or mini dents will be found on every set.
But the price is all the better: 999 € for the Star and 1,048.99€ ex warehouse, Bergheim-Glessen for the Select. This should help in deciding between a new paint or a new frame.
This post is also available in: Deutsch Italiano Français Español
https://blog.scooter-center.com/wp-content/uploads/2015/09/vespa-lml-frame-rahmen-set-kit.jpg
451
900
Jenny Haas
https://blog.scooter-center.com/wp-content/uploads/2016/04/Scooter-Cejnter-SC-Logo-2016.png
Jenny Haas
2015-10-01 15:39:59
2016-01-13 08:42:51
New LML frame instead of only a new paint