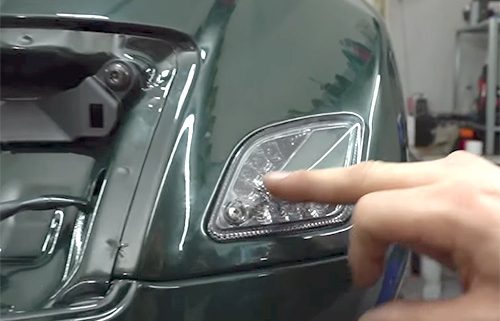 The perfect indicators for your Vespa GTS conversion
We have already presented the popular LED indicators with dynamic running light from MOTO NOSTRA. Our partner Cafe Racer 69 also likes to use the indicators in their Vespa GTS conversions. Not without reason, because the tinted turn signals offer an exclusive and noble optics. In action the GTS running light indicators are spectacular, furthermore they fit perfectly into the design and the lines of the Vespa GTS bodywork: see also here in the video!
Easy to install
Now there is a video on Youtube, which shows the easy installation of the LED indicators very nicely:
Vespa Gts 300 hpe "British Classic" Teil 6 - Vespa LED Blinker von Moto Nostra
The Vespa GTS LED turn signals with running lights are available in clear glass or black tinted, individually for front or rear and in an affordable set: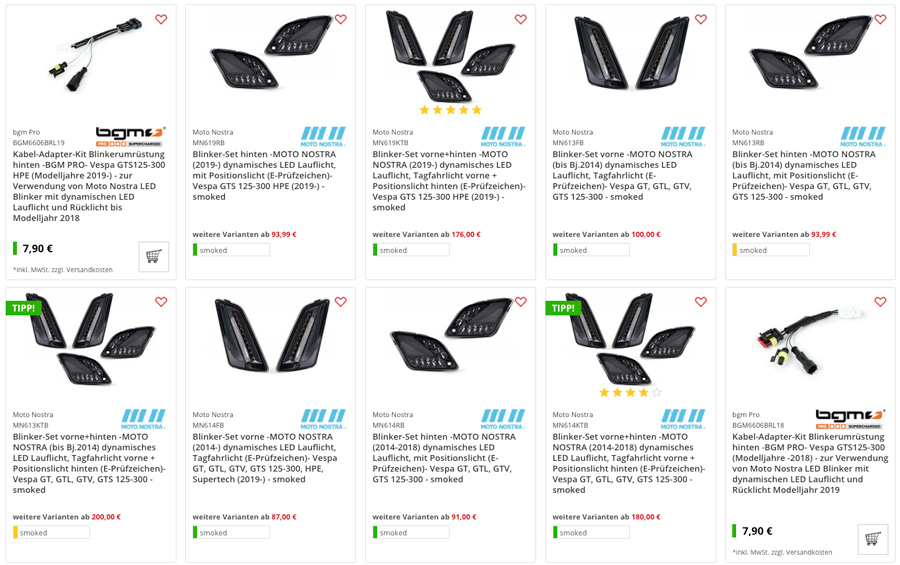 Buy LED indicators for Vespa GTS
MOTO NOSTRA indicators with dynamic running light for Vespa GTS
The MOTO NOSTRA turn signals have individually controlled LEDs and thus produce a fully dynamic running light, just as one knows it from vehicles in the luxury class (e.g. Audi A7). The generated light effect is very pleasing and offers a pleasant change to conventional turn signals. As an additional feature, the front turn signals have a bright white daytime running light strip in plasma look. At the rear the same technology is used as position light.
WHY LED? MORE SAFETY THROUGH TECHNOLOGY!
Besides this wonderful visual enhancement of the scooter and the possibility to individualize its GTS and thus stand out from the crowd, there is another important point that speaks for these great LED indicators:
This new technology increases the optical width of the rear end in the dark and significantly improves perception in road traffic. The bright LEDs of the turn signals are already clearly visible from a long distance. The running light is also optically better detected than with a conventional turn signal.
QUALITY
A special concern for us was the quality and fit. Both are on a very high level with the MOTO NOSTRA turn signals and therefore a high-quality alternative to the Power 1 turn signals.
In addition, the Moto Nostra indicators are always supplied with connection adapters. Therefore, there is no need to make any changes to the wiring harness!
APPROVAL: NO PROBLEMS WITH THE TÜV
Of course the indicators have a test mark and are approved for public road traffic (no TÜV approval required).
https://blog.scooter-center.com/wp-content/uploads/2020/07/vespa-gts-led-blinker.jpg
527
500
Heiko Lepke
https://blog.scooter-center.com/wp-content/uploads/2016/04/Scooter-Cejnter-SC-Logo-2016.png
Heiko Lepke
2020-07-28 16:44:24
2020-07-28 16:44:24
Vespa GTS LED indicators with running light