Vespa V50 shock absorber adapter CMD Joe Possum
There Wolfgang aka Crazy Monkey Development was again very creative: The result is a beautiful Vespa V50 shock absorber adapter with the name " Joe Possum ". The adapter for the rear shock absorber also fits the classic Vespa Smallframe models like V50, 50N, PV125, ET3 …
Why do you need a shock absorber adapter?
When you drive a powerful racing exhaust on a Vespa Smallframe (What is a Vespa Smallframe? ), it is usually the case that the voluminous manifold of the reso exhaust system grinds on the shock absorber. This beautiful adapter, milled out of solid aluminium, shifts the rear shock mount of the rear shock absorber in an adjustment range from 25mm to 45mm to the rear and up to 5mm to the outside.
With this room for manoeuvre you create enough space for powerful resonance exhaust systems whose manifolds would otherwise touch the shock absorber!
Buy Joe Possum from CMD here
Solution: CMD Joe Possum for laying the shock absorber
Actually, much too beautiful to disappear under the frame. The noble adapter not only looks great, it also contains an integrated support on the frame and an optional second attachment point. Thus it is at least as stable as the original mounting.
Standard height approx. +9mm, for use with standard silent block.
Adapter made of medium strength aluminium EN AW-6082
including fixing material: pan-head screw M8 as well as washers and lock washers
Buy Joe Possum from CMD here
Vespa shock absorber and tyres
A powerful engine should of course be accompanied by a high-performance chassis, thanks to Joe Possum there is now room for it! How about our bgm PRO shock absorber for Vespa Smallframe. You can also get it in a cheap set front and rear!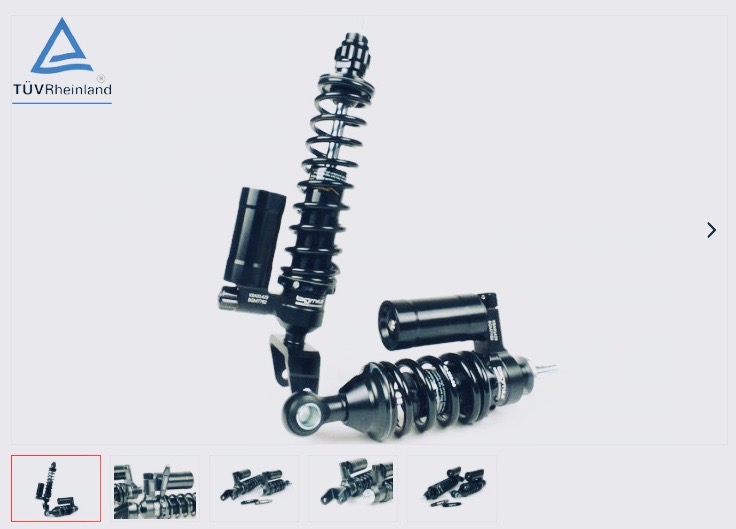 To make sure that the power gets safely on the road, we recommend our bgm PRO tyres in the CLASSIC version up to 150km/h and the SPORT version up to 180km/h.
Neue Motorroller Reifen für Vespa, Lambretta & Co. von bgm - Made in Germany
This post is also available in: Deutsch Italiano Français Español Nederlands
https://blog.scooter-center.com/wp-content/uploads/2020/06/joe-possum-cmd-vespa-smallframe-title.jpg
637
500
Heiko Lepke
https://blog.scooter-center.com/wp-content/uploads/2016/04/Scooter-Cejnter-SC-Logo-2016.png
Heiko Lepke
2020-06-25 14:14:39
2020-06-25 14:15:16
Vespa V50 shock absorber adapter CMD Joe Possum – small frame rear