Vespa Largeframe conversion to electronic ignition
Vespa engines of the large frame models with rotary vane intake control, e.g. Vespa VNA, VNB, VBA, VBB, VLA, GT, GTR, Sprint, Rally, PX, LML 2T, Bajaj Chetak can now be easily converted:
Why should I convert a Vespa to electronic ignition?
These are the advantages of an electronic ignition!
After the conversion, the former weak 6Volt on-board power supply has a powerful 12Volt light output. The previously self-regulating electrical system is converted to a reliable and bulb-friendly regulator control (e.g. with BGM6690). The high-quality wiring ensures a safe transmission of the high light and ignition power. With its strong wattage, it already provides a very good light output when idling, which does not collapse even when using the indicators or additional power consumers. No maintenance necessary! Maintenance work, as usual with contact ignition, is not necessary.
Our new bgm ignition: specially developed for the conversion of contact controlled engines to a maintenance free electronic ignition:
The latest version of the proven bgm PRO HP (High Power) ignition base plate for conversion from contact ignition to electronic ignition.
Suitable for e.g. Vespa Largeframe like VNA,VNB, VBA, VBB, GL, Super, Sprint, GT, GTR, TS, Rally

buy ignition now here
bgm PRO ignition base plate
With our own brand bgm, we have revised and improved the thousandfold proven bgm PRO ignition base plate. Special attention was paid to a very high quality of the coils and the pickup.
In addition, the cabling was changed to textile-sheathed silicone cables. A special gimmick is the cord already attached to the cable branch for easy pulling the cable harness through the cable channel in the engine housing. Also the base plate now has a degree exact scaling for easy adjustment.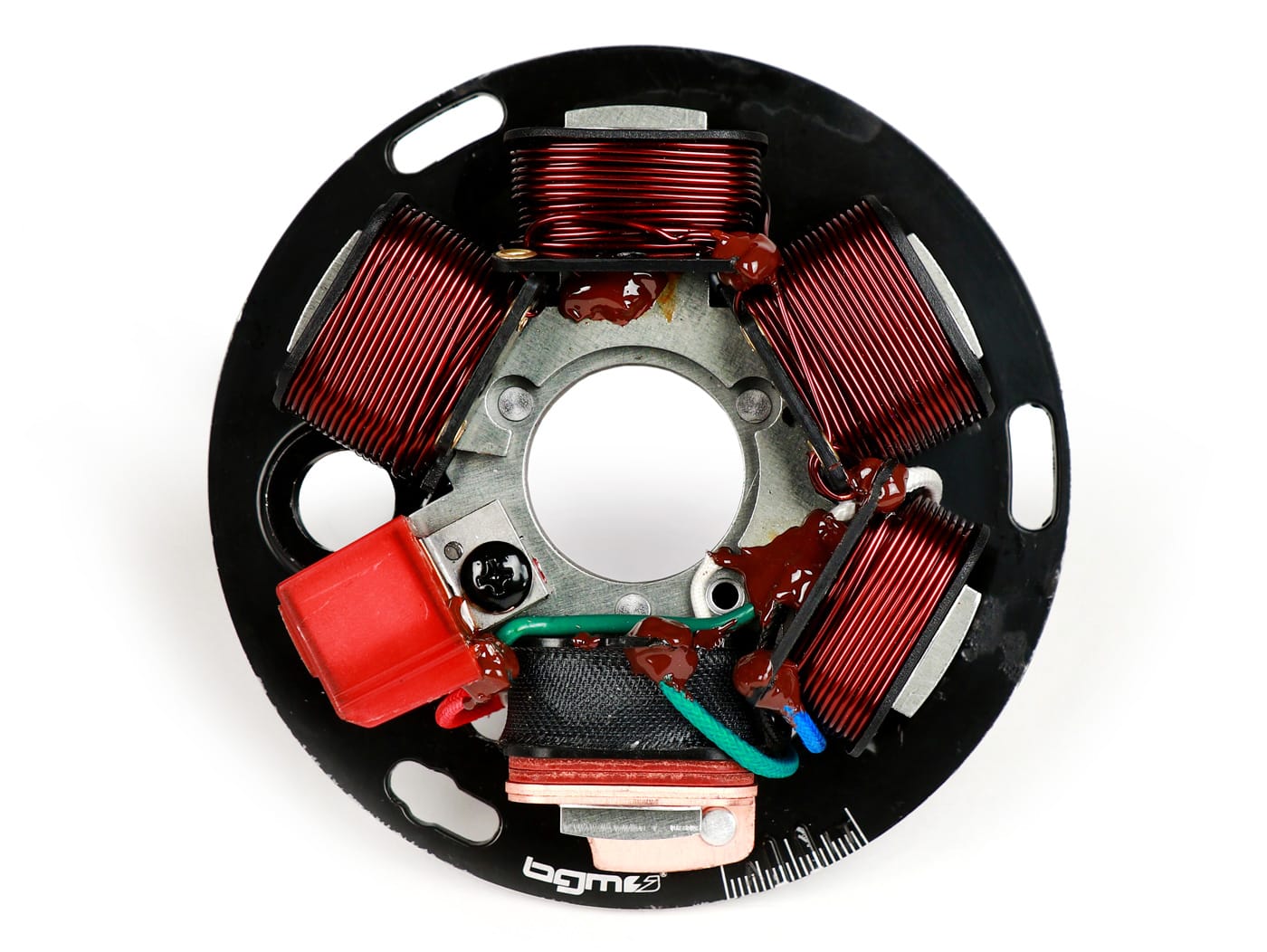 Compared to a conventional electronic ignition, the BGM Pro HP V2.5 ignition base plate has specially combined coil windings.
Through this the efficiency of the alternator is again clearly improved and offers with 120W a high light output.
In contrast to a Vespa PX ignition base plate, the BGM Pro HP has a longer and differently laid cable load in order to be able to mount the ignition base plate perfectly on older vehicles. Additionally it has an adapted base plate contour to fit perfectly on engines before 1977 (with a larger shaft seal seat than PX).
High light output (120W) through maximum number of windings
Proven excitation coil with copper plate for highest reliability
Pickup with carbon barrier layer for a clean ignition pulse
Cleanly processed light coils
High quality solder joints
Original cable lugs and length for very easy cabling
Can be combined with additional modules (PiFi, Kytronic, Agusto)
NOTE: The BGM pickup has a nominal resistance of 100 Ohm (+/- 10Ohm)
ADVANTAGES OF SILICONE CABLES
Extremely temperature resistant (-40°C to +250°C))
Always stays flexible
Very good mechanical protection by the textile fabric
Resistant to fats, oils, alcohols, oxygen, ozone
Very high insulation properties
CONVERSION TO ELECTRONIC IGNITION
When converting from a contact ignition to this base plate, the use of a different fan wheel, a voltage regulator and a CDI is necessary.
A standard old voltage regulator, like the standard ignition coil, is no longer needed.
With the BGM voltage regulator BGM6690 an optional battery (12Volt battery required) can be charged while driving. The old wiring harness can still be used, however, the formerly individual circuits must be combined here, since the voltage regulator only provides one output for the complete power supply. It is easier to convert to one of our conversion wiring harnesses (e.g. 9077011).
Everything necessary for this is available individually or as a set.
Suitable for Vespa Oldie-Largeframe
The BGM ignition base plate fits all Vespa engines of the large frame models with rotary vane intake control, e.g. Vespa VNA, VNB, VBA, VBB, VLA, GT, GTR, Sprint, Rally, PX, LML 2T, Bajaj Chetak.
buy ignition now here
Conversion set
Beside the ignition you also need some other parts to convert the engine from contact ignition to electronic ignition. We have put together a practical set for you here: BGM6661PRO
All parts are also available separately:
PLEASE NOTE
The alignment of the crankshaft in the engine case, and thus also the position of the pole wheel, is much more variable in the old largeframe engines (recognizable by crankshaft bearings of the same size with 25x62x12mm) than, for example, in the later PX engines.
The crankshaft bearings are not fixed in the engine housing by a snap ring, but are only fitted with a light press fit in the housing. Due to various tolerances (e.g. the width of the shaft sealing rings, worn bearing seats, orientation of the cone on the crankshaft) there may be significant deviations from the originally intended positioning of the shaft in the crankcase. Prerequisite for a correctly working ignition is a perfect alignment of the pole wheel with the ignition base plate. Otherwise the trigger surface in the pole wheel will not run parallel to the pickup, which can lead to misfiring. If the ignition does not produce a spark, the fault is usually to be found here. For easy repair we offer distance plates (BGM8000S05) for the pickup on the ignition base plate. With these distance plates the correct distance can be restored in a simple way.
The bgm PRO Conversion ignition fits the following models:
Vespa Augsburg Vespa 150 GL (VLA1T)
Vespa Augsburg Vespa 150 Sprint (VLB1T)
Vespa Augsburg Vespa 125 T/2 (Type 392, VNB4T)
Douglas Model 152L2 (VNA)
Douglas model 232L2 (VNB)
Douglas New 150 (VBA)
Vespa (Piaggio) Vespa 150 Super (A, VBC)
This post is also available in: Deutsch Italiano Français Español Nederlands
https://blog.scooter-center.com/wp-content/uploads/2020/04/vespa-zuendung-umreusten.jpg
857
600
Heiko Lepke
https://blog.scooter-center.com/wp-content/uploads/2016/04/Scooter-Cejnter-SC-Logo-2016.png
Heiko Lepke
2020-05-04 18:07:22
2020-05-04 18:07:22
Vespa conversion from contact ignition to electronic ignition