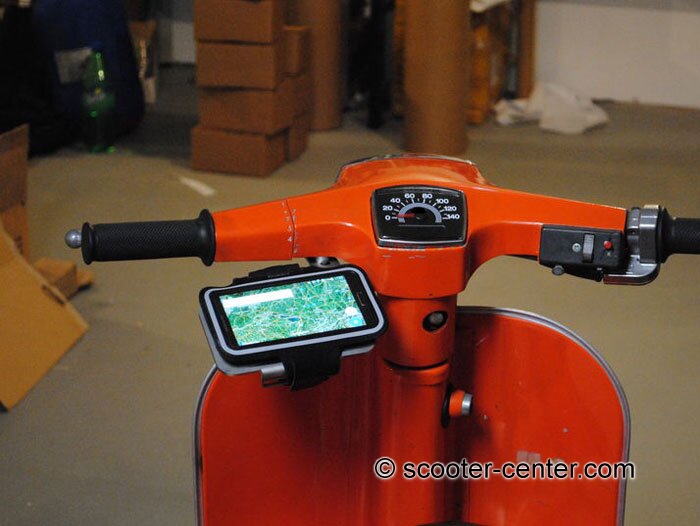 We can no longer imagine a life without navigation systems and cell phones. I consider the use of smartphones with GPS as navigation system very smart. I want to use it, but where to put the expensive smartphone for it to be safe? And how to charge it?
You will see the best way of using a smartphone with your Vespa.
This support can be used to attach any smartphone with a screen size of up to 5.5" to your Vespa, providing that there are two M8 threads below the handlebar for mirror screws (e.g. Vespa PX, T5, Sprint, V50, Primavera…).
Smartphone bag made of neoprene, spray water resistant
Smartphones up to 5.5" size, e.g. iPhone 6 PLUS…
Support made of stainless steel
Screwed with winged screws for quick detaching without using tools
Smartphone can easily and quickly be removed from the side of the bag
You can still use the touch screen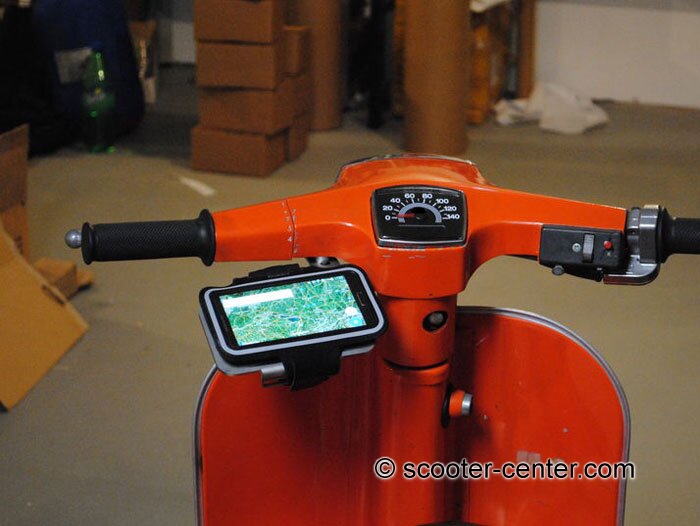 Smartphone support (up to 5,5″) -MRP- universal, all geared Vespa scooters – mounting beneath handlebar (mirror screws)
Delivered with:
stable and extremely robust bracket made of stainless steel
spray water resistant smartphone bag made of neoprene
winged screws and spracer sleeves for perfect attachment to handlebar
Also available without neoprene bag and for smaller smartphones / cells -> 5" displays.
Charging the cell with the Vespa?
No problem! All you need is a suitable voltage regulator and a USB port!
We recommend our extremely small voltage regulator for all ignitions with 12 volt. The regulator supplies alternating current and optionally direct current. This turns the regulator in the perfect and reliable replacement for any common voltage regulator and in an up to date add on to the existing electronics of your Vespa, to charge a navigation system or your cell-/ smartphone and the likes.
Easy attachment of voltage regulator to your Vespa
Connecting the regulator to the existing wiring loom is easy as pie: For an entire AC system you will need regualted AC current on the wires for the electronic consumers. For systems with AC and DC, you will need to differentiate between AC and DC and wire accordingly.
You will find some wiring examples here (in downloads on the right).
USB port for Vespa scooters
Waterproof outdoor USB plug
Great USB plug with two USB slots to connect to a 12V-24V motor bike-, scooter-, ATV- or car battery. Waterproof seal, therefore may also be used on boats or for camping/outdoor activities! Perfect to charge devices like cell phones, smartphones, notebooks, iPads, iPhones, iPod Touch, Sony, Nokia, HTC, Samsung, GPS, MP3 players, PDAs… on board of any vehicle with a 12-24Volts electrical system.
Once integrated in the 12V system, you can use two USB slots at the front.
In single use, one slot supplies 5V/2,1A.
Using both slots, each slots supplies 5V/1,0A.
Blue LED lights: A permanent blue backlight (LED) helps to see the slots in the dark.
Technical details:
Output voltage: 5V DC +/-5%
Input voltage: 12V-24V DC +/-4V
Max. output voltage: 2,1A DC
Diameter mounting hole: 29mm
Installation depth (total length): approx. 60mm
Length of wire: approx. 145cm
Wide clamp screw: 39mm
IP65 proof (complete protection from infiltration of dust + Protection from water projected from a nozzle)
Incl. tab connector protection with fuse holder
Incl. handlebar support for handlebars up to 7/8" (22.2mm), rubber protection cap.
Easy assembly
Needs to be connected to the plus wire of the wiring loom connected to the ignition (red wire to live wire when ignition is on, black wire to mass/frame).
Touring tips
You will find information on the best way of taking luggage in a Vespa with a high quality bag (transporting luggage on a Vespa) and on how to increase fuel range with a small jerry can: jerry can for Vespa glove box.
This post is also available in: Deutsch Italiano Français Español
https://blog.scooter-center.com/wp-content/uploads/2016/06/smartphone-vespa_33317273.jpg
526
700
Jenny Haas
https://blog.scooter-center.com/wp-content/uploads/2016/04/Scooter-Cejnter-SC-Logo-2016.png
Jenny Haas
2016-06-08 12:33:25
2016-06-10 10:05:23
Smartphone support for Vespa scooters