Higher primary reduction for a higher performance of Vespa engines
New concepts for performance and torque oriented engines in the Vespa Largeframe segment almost demand the use of a higher primary reduction.
A higher primary reduction increases the torque available in your engine, increasing effective use of the available torque curve. This means, you will cruise at constant speed at lower revs, which in turn means that there is an increase in top speed.
BGM PRO primary drive wheels
Advantages of BGM PRO higher primary reduction for your tuned engine
more relaxed driving
less gearbox noise
less fuel consumption
higher top speed
a short forth gear even increases acceleration at higher speed
a larger coverage of tooth flanks leads to higher resilience
lower revs
Up until now
you could only purchase spur-geared primary reduction gears. Resulting in immense driving noises, less coverage of tooth flanks and the fact, that a later change of gear reduction will demand time, money and material. This decreases day to day efficiency.
NEW: Smoother operation and symmetrical power transmission by BGM PRO
BGM PRO primary drive wheels are helically geared. Compared to spur gearing, helical gearing leads to a drastic increase in smooth operation and an increase in smooth power transmission at tooth flanks.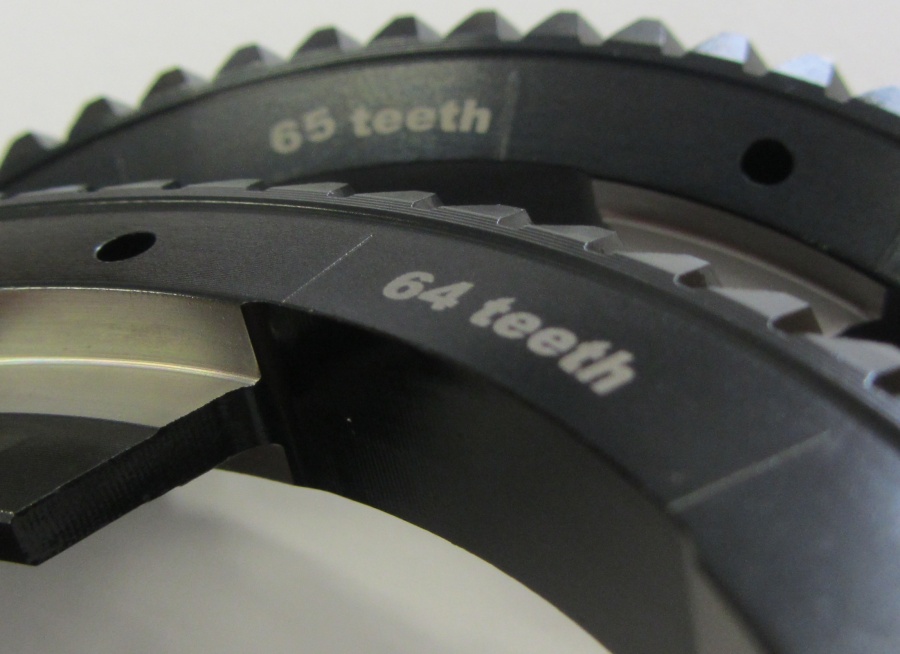 Certified quality by BGM PRO
Each batch of primary drive wheels is checked for its dimensional accuracy, quality of material and workmanship, just like our clutch sprockets and gear cogs.
Wide range of combinations possible
We are currently the only manufacturer offering helical gearing reductions, which can be used in combination with various clutch sprockets.
The following combinations are possible:
Vespa clutch sprocket BGM PRO with 22 teeth
Vespa clutch sprocket BGM PRO with 22 teeth is a special sprocket though. Base circle and tooth flanks were optimised for primary drive wheels with 65 and 64 teeth. So, in combination 22/65 the BGM PRO clutch sprocket offers a more stable and better coverage of tooth flanks than sprockets by Piaggio or Newfren for instance.
Perfect fit: BGM SUPERSTRONG clutch
Our BGM Superstrong Vespa clutch has the fitting sprockets and is easily fitted to BGM primary drive wheels.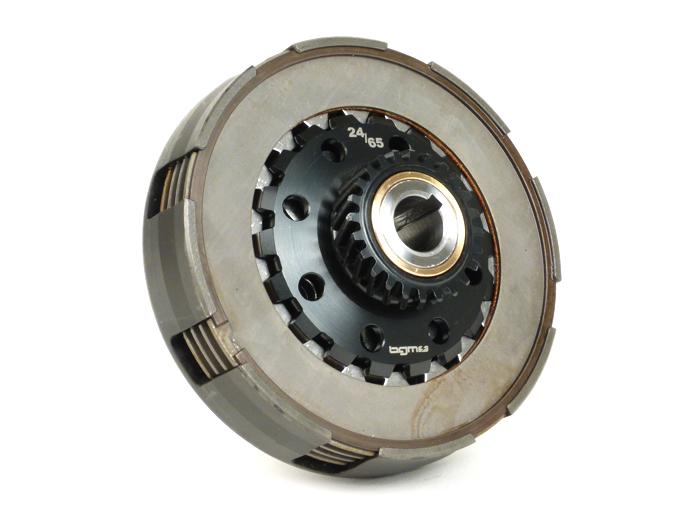 The table shows the various combinations and their effects on the reduction ratio. It helps to choose the perfect gearbox for any event. A combination of a long distance primary drive wheel with 64 teeth and a clutch sprocket with 22 teeth will lead to an overall reduction that is lower than in an original PX200. Meaning: You can choose freely between various exhausts. Either high revs or a lot of torque.
Vespa primary drive repair kit
We recommend to use our reinforced primary drive repair kit to fit primary drive wheels to the layshaft.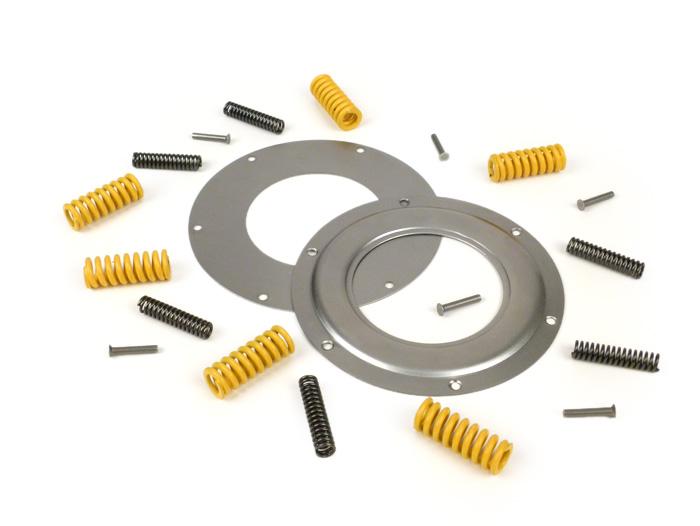 Its reinforced springs also work perfectly with a drastically increased torque.
Short fourth gear for Vespa
So far, Malossi sports and Polini 221 engines, which are high in torque, have proven their quality in combination with a 24/64 and a short fourth gear.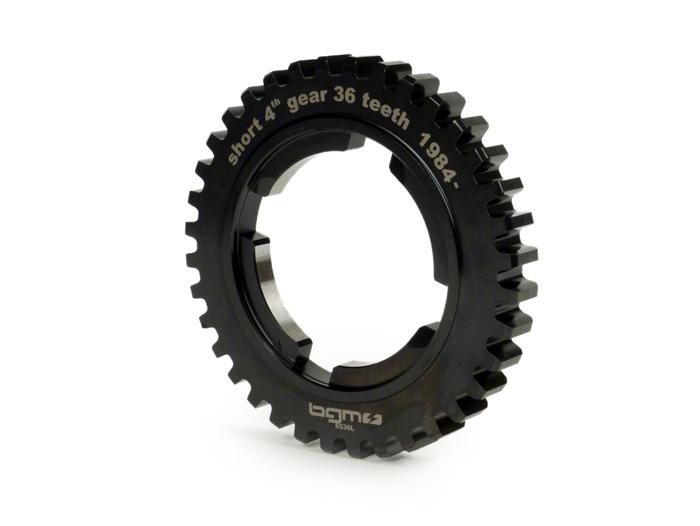 A short fourth gear reduces the gear step between third and fourth, in order to grant a sufficient torque and smooth gear ratio and nice acceleration when changing to fourth.
The table and graphs** below show the difference. Higher reduction leads to nice cruising speed in towns and on large roads at lower gears with very low revs. This combinations offers rather quick driving and a higher top speed with lower revs when driving in fourth.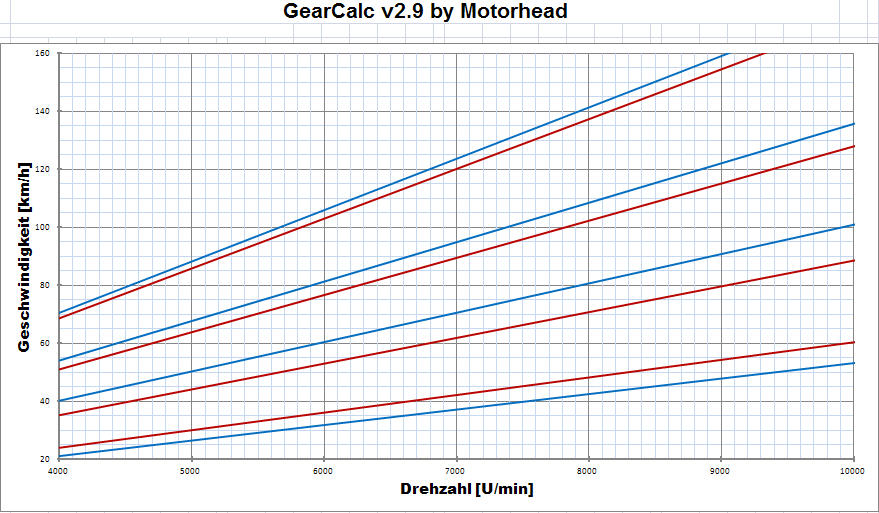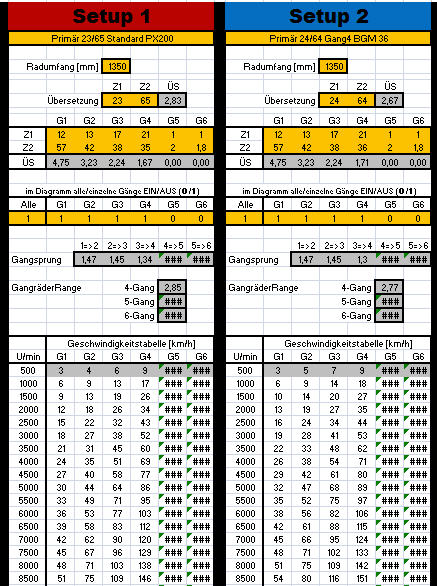 **(We would like to take this opportunity to thank GSF member Motorhead for the Gear Calc!)
Conclusion
A higher primary reduction offers
more relaxed driving
higher top speed and
a short forth gear even increases acceleration at higher speed.
This post is also available in: Deutsch Italiano Français Español
https://blog.scooter-center.com/wp-content/uploads/2015/09/bgm-pro-primaerrad-vespa-px-rally.jpg
451
900
Jenny Haas
https://blog.scooter-center.com/wp-content/uploads/2016/04/Scooter-Cejnter-SC-Logo-2016.png
Jenny Haas
2015-09-28 08:22:18
2015-09-29 13:58:47
Primary reduction BGM PRO Vespa Largeframe