Spectacular looks and safe protection against theft
We like this lock by MasterLock for its extraordinary cuff design.
It's not only about looks but it also has a very high safety classification. Revolving joints prevent a fixed anchor point. The safety lock is made of hardened steel with high-tech ABS coat and is supplied with 4 keys.
Safe
The Masterlock Street Cuff with 9 chain links also perfectly fits a Lambretta thematically. But the Masterlock 8290 also offers perfect protection to any Vespa and any other scooter. The cuffs take perfect hold of fork or crank and therefore prevent theft of the loved and valuable scooter.
Handy & easily stored
Thanks to the cuff design the scooter lock is very handy using only a little space in the glove box. The lock is made of hardened steel and tightly locks with 10 pin cylinders.
Technical data Master Lock Street Cuff lock
Safety class: 10
Length: 550 mm
Widths clips: 74 mm
Weight: 1450 g
Colour: black
Accessories: 4 keys
Conclusion:
Handy lock with sensational looks for any scooter, seems to be very safe. Chain links are very massive and the lock is easily moved. Another advantage: the lock folds away nicely.
Order MASTER LOCK Cuff Lock for a good price
The recommended retail price of the manufacturer exceeds 100 Euros.
Our price (as of 23.06.2016) only 79,00 Euros plus shipping fees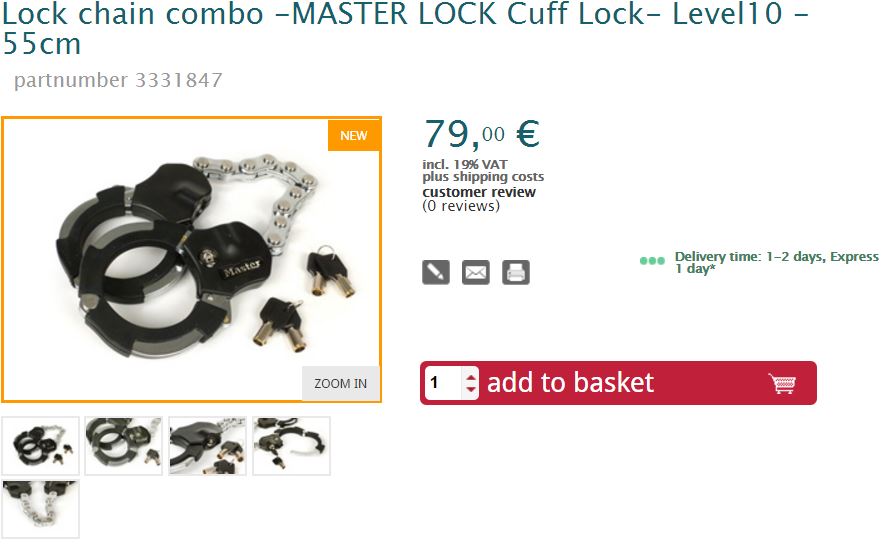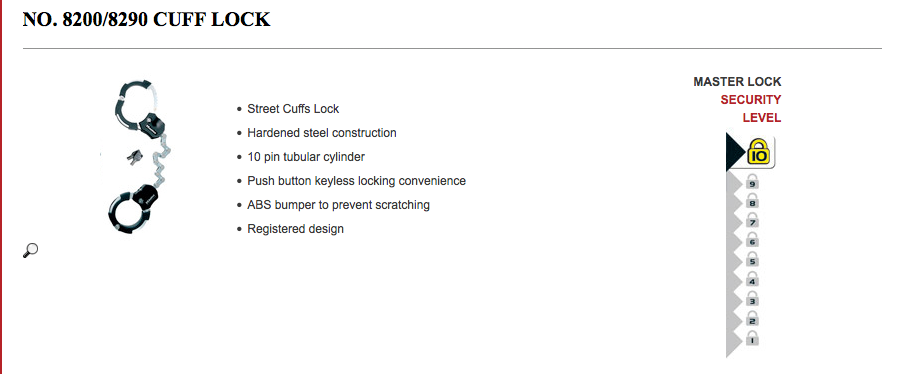 This post is also available in: Deutsch Italiano Français Español
https://blog.scooter-center.com/wp-content/uploads/2016/06/masterlock-vespa.png
737
900
Jenny Haas
https://blog.scooter-center.com/wp-content/uploads/2016/04/Scooter-Cejnter-SC-Logo-2016.png
Jenny Haas
2016-06-30 13:03:30
2016-06-30 13:03:30
Masterlock cuffs-lock for scooters