FuelFriend, the smallest jerry can on the market, which is compatible with fuel nozzles!
We're way in the season! Many scooterists are currently on their way to the Vespa World Days in Saint Tropez / southern France. Next year the distance will be shorter for those Vespa fans coming from Germany. Vespa World Days 2017 will take place in Celle / Germany.
No matter where to, a scooter tour with friends always is great fun. And the perfect equipment adds to the fun and makes the journey also a lot safer!
Transport luggage on a Vespa
Packing correctly is crucial. You should tighten your luggage as central and securely as possible to your scooter. Best would be a bag, which lasts at least as long as your Vespa: the SEA'N'SAND T-Bag Vespa travel bag.
Increase the range of your Vespa
Have you ever had a breakdown due to an empty tank? Our loved scooters often don't have the largest range, which might be even less after some tuning. We therefore recommend: the durable and safe mini fuel reserve, which also fits in the smallest luggage or helmet box! The scooter jerry cans with 1, 2 or 3 liters volume fit in the glove box of a Vespa PX, T5, etc. See pictures:
Jerry can FuelFriend PLUS 1L
the smallest jerry can on the market, which is compatible with fuel nozzles!
the emergency reserve for motor bikes, scooters, Quads and other small power engines
small size, highly robust, meets highest security requirements
with eyelets at the sides to fasten tightening straps etc.
E10 compatible
range: up to 30 km
black lid
discharge pipe available separately:
Dimensions Vespa jerry can 1 litre
inner ø of nozzle = 29mm
depth=65mm
width=125mm
height=165mm
Also available as 2 litres jerry can or larger: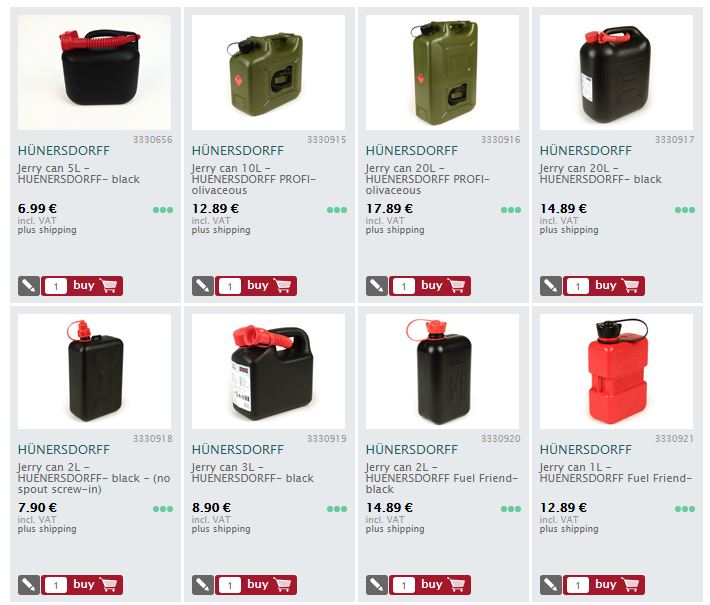 This post is also available in: Deutsch Italiano Français Español
https://blog.scooter-center.com/wp-content/uploads/2016/06/vespa-scooter-jerry-can-scooter-center.jpg
674
900
Jenny Haas
https://blog.scooter-center.com/wp-content/uploads/2016/04/Scooter-Cejnter-SC-Logo-2016.png
Jenny Haas
2016-06-06 16:01:07
2016-06-06 16:01:07
Jerry can for Vespa glove box