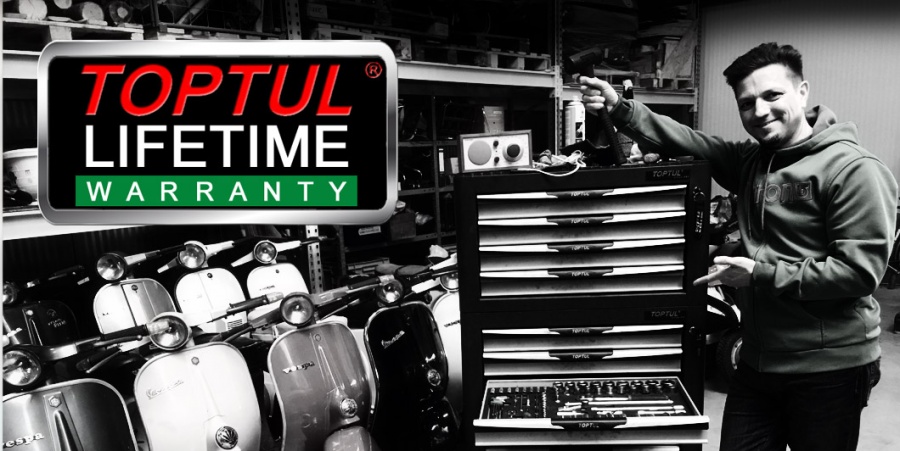 Individual gift ideas for scooterists by the Scooter Center team
Name: Oliver

How long have you been working for Scooter Center:
From the very beginning, almost 24 years now
What is your task at Scooter Center:
I try to retain overview
What's your relation to scooters:
My first connection to the world of scooters was a Vespa PK50 XL in 1986. This was the scooter for my first experience with scooter tuning and following several D.R. 75cc and Polini 120cc cylinders I bought an old PX200 in 1988. During the first years this scooter went through a metamorphosis from mod scooter to camouflage Skeleton Vespa. My next scooter was a GS4 with 160cc, which, 25 years later, still is part of my fleet.
Then I started fancying Lambretta and owned several SX200, DL200 etc. until 1994, when I built up the Lambretta Custom "Virtual Reality".
I still drive the Virtual Reality and I also drive a LI150 series 1 with 195cc BGM R/T cylinder and a Rally 200 with Polini aluminium cylinder and a BGM Touring Big Box.
Gift idea for scooterists
Toptul tool trolley with 322 tools + tool chest with 223 tools
Part no. GV32203 + GX22307
Why:
It is real fun to work with the tool trolley and tool chests. Each individually is extremely well equipped for the needs of a weekend scooter or car mechanic – The foam layers have the perfect shape for the tools, which guarantee fun while working and while tidying up.
We have been using TOPTUL tools for more than 10 years in our garage and are entirely convinced by its quality. Plus, you can buy the TOPTUL tool trolley and tool chest as a set at an unbeatable set price!
TOPTUL tool trolley
TOPTUL manufactures high quality tools for more than 20 years and is best in terms of cost-benefit ratio. We use TOPTUL products on a day-to-day basis for years now and are entirely convinced.
The neatly spaced teeth of the ratchet are only one example. The massive and robust 72-teeth series ratchet offers a fastening efficiency with 5 degrees increments (only 1/72 of a turn), which best suits delicate job requirements.
TOPTUL tools meet or rather outperform standards like DIN / ISO / ANSI. There is a stringent internal quality control, which is proven for instance in the individual calibration chart regarding measurement accuracy and response behaviour supplied with every torque wrench.
From our own experience we can recommend TOPTUL products to any "intense weekend mechanic" with a clear conscience.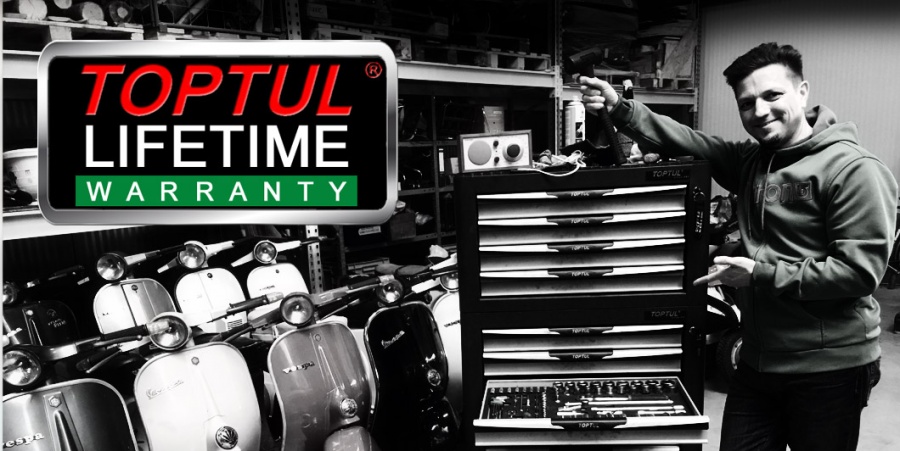 This post is also available in: Deutsch Italiano Français Español
https://blog.scooter-center.com/wp-content/uploads/2015/11/geschenk_toptul-werkstattwagen.jpg
451
900
Jenny Haas
https://blog.scooter-center.com/wp-content/uploads/2016/04/Scooter-Cejnter-SC-Logo-2016.png
Jenny Haas
2015-11-19 14:15:00
2015-11-20 10:40:09
Gift idea for scooterists - Tool trolley Toptul