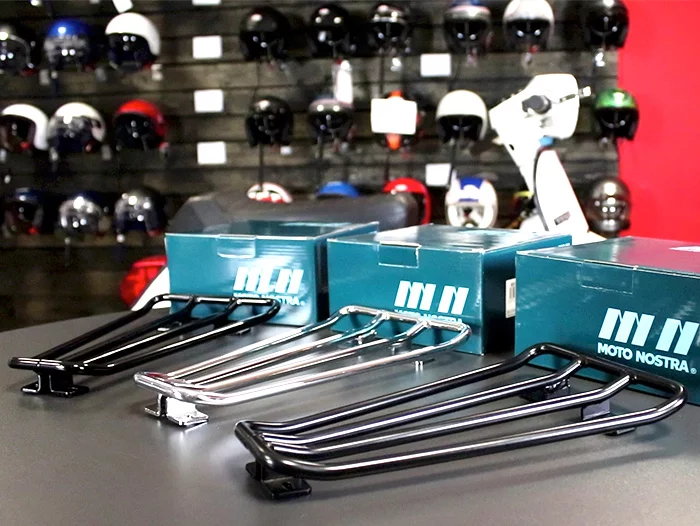 Footboard rack for Vespa
The footboard rack for Vespa by Motonostra is the perfect solution to carry bulky and heavy loads (such as beverage crates) in total safety and stability. Also very useful for the transport are our stretch belts and straps which can be used in combination with the luggage carrier.
Thanks to the massive steel bars with a 10 mm diameter, these foot racks are extremely solid and therefore perfect for heavier loads.
Footboard racks available in three colours
Even without luggage, this rack enhances your Vespa an original style and is available in three different versions:
The black versions are powder-coated and therefore are also impact-resistant, while the chrome plating of the other version protects the metal from rust.
Buy here your footboard rack for Vespa!
Vespa Gepäckträger Durchstieg für den Fussraum Vespa PX Lusso
Easy to mount
The screws provided with the rack are longer than the genuine ones, this allows you to fix the floor mat and the luggage rack together at the same time. Alternatively you can mount the rack without the genuine floor mat. The screws are also provided with plastic caps which make the screw heads weather-resistant.
Technical specifications:
Length: 290 mm
Width, rear: 175 mm
Width, front: 80 mm
Height: 10 mm (at the ends 20 mm)
Available in: glossy black, matt black, chrome
Incl. fixings: 4 screws 3,9x25 mm + screw caps
Fits all Vespa PX models from 1984 on: PX EFL, PX Disc, PX My, PX2011, etc.
New footboard rack for Vespa PX
Vespa PX models are particularly well suited to carry heavy luggage and globetrotters know it quite well! In comparison with the other Largeframe models, the PX EFL, which were put on the market in 1984, has the sturdiest and stablest chassis. The maximum licence weight is 310 Kg. If we consider the unladen weight of the vehicle and the weight of the driver (80 Kg), you still have 120 Kg load you may carry on your Vespa.
The foot rack is a perfect alternative to the front or rear rack and allows you to fully use the space available on the footboard.
Buy here your footboard rack for Vespa!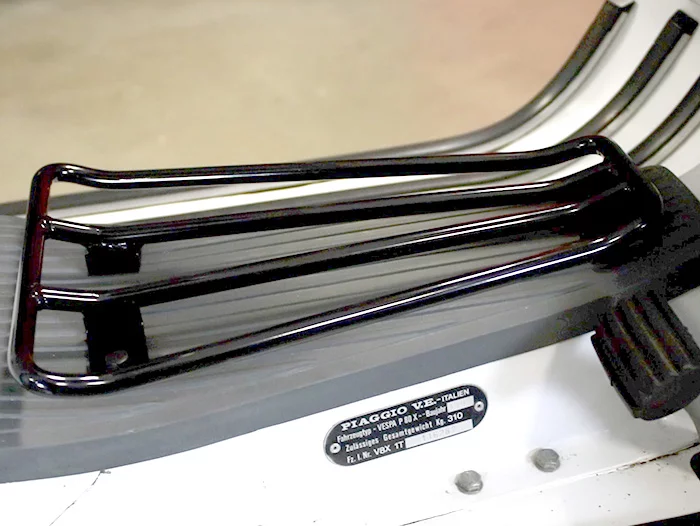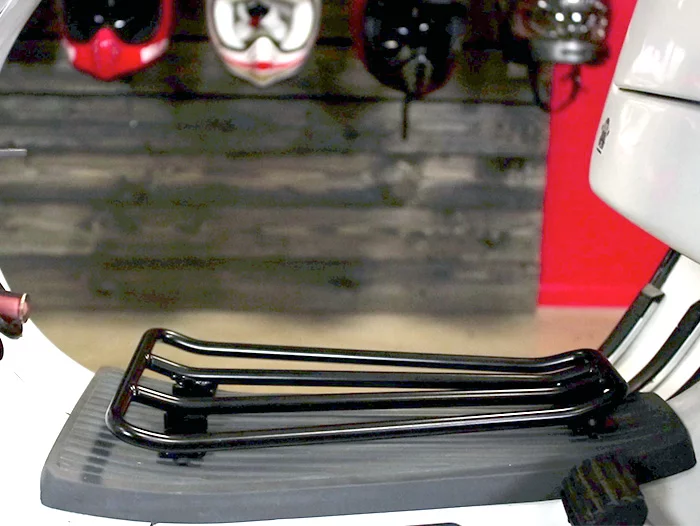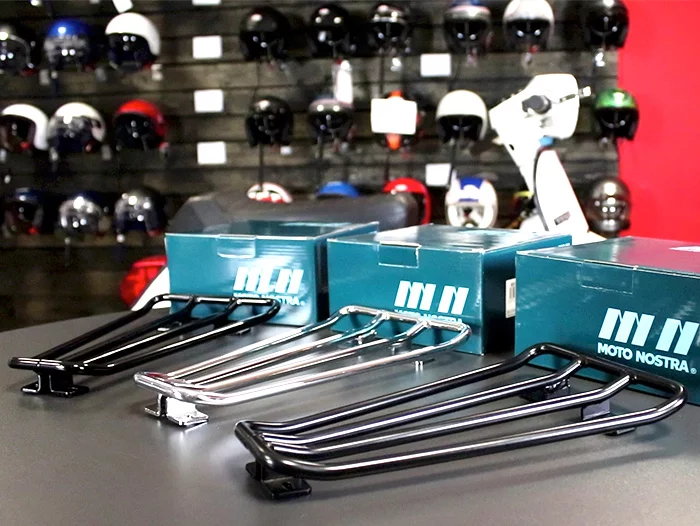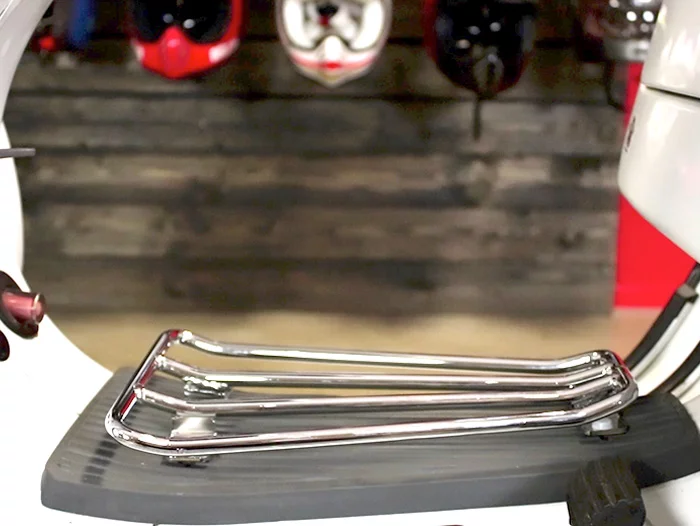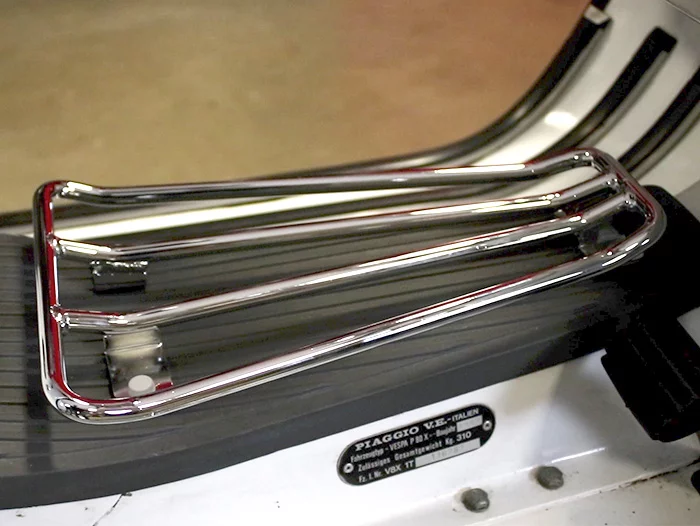 Fits the following Vespa models:
Vespa 80 PX E EFL (V8X1T -- 1983-)
Vespa80 PX E EFL Elestart (V8X1T -- 1984-1990)
Vespa150 PX E EFL (VLX1T -- 1984-97)
Vespa125 PX E EFL (VNX2T -- 1984-97)
Vespa125 T5 (VNX5T)
Vespa 200 PX E EFL (VSX1T -- 1984-97)
Vespa 125 PX E EFL (ZAPM09300 -- y.o.m. '98-'00)
Vespa 125 PX E EFL (ZAPM09302 -- y.o.m. '01-'10)
Vespa Vespa 150 PX E EFL (ZAPM09400 -- y.o.m. '98-'00)
Vespa 150 PX E EFL (ZAPM09401 -- y.o.m. '01-'10)
Vespa 200 PX E EFL (ZAPM18 -- 1998-)
Foot rack also available for Vespa GT, GTS, GTV and GTL
The Moto Nostra footboard rack is also available for the Vespa GTS, very useful to carry bulky or heavy loads, it embellishes the design of your Vespa enhancing its style.
Thanks to its round steel bars this footboard rack has a very solid structure, perfect to load bulky luggage. Available in powder-coated black or in glossy chrome.
The foot rack fits all Vespa GT, GTS, GTV and GTL models (all years of manufacture)
Very easy mounting and fixings included in the item.
Buy here your foot rack for Vespa GTS!
https://blog.scooter-center.com/wp-content/uploads/vespa-gepaecktraeger-durchstieg-vespa-px-farben.jpg
526
700
Emanuela Lucatuorto
https://blog.scooter-center.com/wp-content/uploads/2016/04/Scooter-Cejnter-SC-Logo-2016.png
Emanuela Lucatuorto
2017-12-08 16:00:14
2018-04-26 11:41:19
Footboard rack for Vespa