Our recommendation for works on Vespa and Lambretta engines
Working precisely is essential for a good result when building up a new engine.
Inlet timing of rotary valve or piston ported engines as well as transfer and outlet timing of a cylinder are crucial factors in building an engine.
It all depends on the choice of components, but usually cylinders and/or engine casings have to be fine tuned in order to achieve the desired trigger delay angle in inlet and cylinder. Sometimes measuring with a calliper is not enough. Therefore we recommend to once assembling the engine without fitting it in the scooter. Because this will allow you to get the dimensions you need. And if you found out then, that the engine casing needs fine tuning, you would have to remove the ball bearing again. Which usually shortens the life span of the sensible bearing immensely.
NEW: Bearing dummies
Bearing dummies help you in this cause.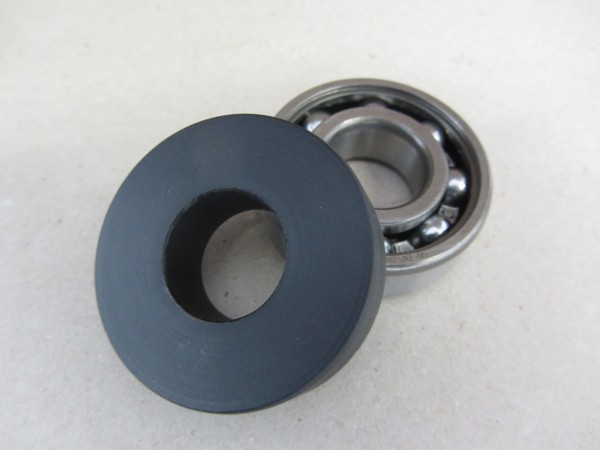 Advantages of bearing dummies
The dummy will fit without the common need of heating the engine casing.
The dummies have, just like ball bearings, visible chamfers for easy assembly.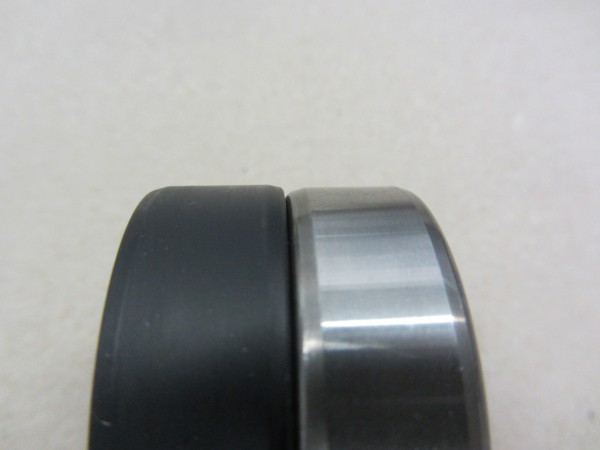 Once the dummies are fitted, you can still turn the crankshaft and you can even measure the gap dimension.
A useful tool to gain this important data is for instance the BGM timing disc in combination with the Whale. This set will help you to easily and precisely measure the trigger delay angle.
Once you collected all the data by using bearing dummies, you can easily remove the substitute ball bearings from the engine casing.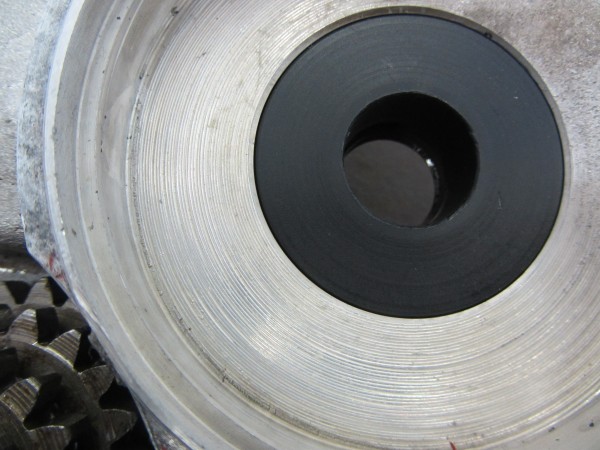 The right size matters!
We have now developed bearing dummies by BGM PRO. MADE IN GERMANY
The bearings are available in all important sizes. The description of the dummies includes the dimensions of the corresponding ball bearing and the name of the bearing. Guide to read information on size (the bearing dummy for the ignition bearing of a Vespa PX and PK ETS will serve as example):
Bearing dummy crankshaft -BGM PRO- NBI 253815 (25x38x15mm)
NBI 253815 = name of the bearing given by the producer (Nadella, SKF, …)
25 = inner diameter of the bearing in millimetre
38 = external diameter of the bearing in millimetre
15 = width of the bearing in millimetre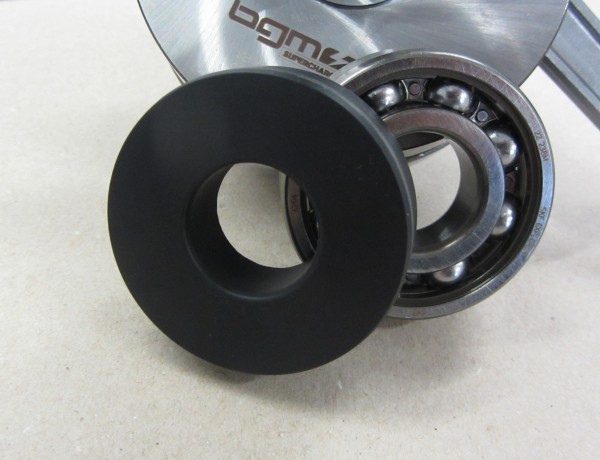 Available in all sizes:
Various combinations sorted by type of scooter:
You see, you will need different dummies for various combinations of engine and crankshaft.
Vespa Sprint 2-port
Flywheel side BGM1200TL; bearing dummy crankshaft -BGM PRO- 613912 (25x62x12mm)
Ignition side BGM1200TL; bearing dummy crankshaft -BGM PRO- 613912 (25x62x12mm)
Vespa T5
Flywheel side BGM1200TL; bearing dummy crankshaft -BGM PRO- 613912 (25x62x12mm)
Ignition side BGM1205TL; bearing dummy crankshaft -BGM PRO- N205, NU205, 6205 (25x52x15mm)
Vespa PK 50 with conversion to ETS crankshaft
Flywheel side BGM1203TL; bearing dummy crankshaft -BGM PRO- 6303 (17x47x14mm)
Ignition side BGM1207TL; bearing dummy crankshaft -BGM PRO- conversion to PK ETS bearing (25x47x12mm)
Lambretta GP
Flywheel side BGM1204TL; bearing dummy crankshaft -BGM PRO- 6305 (62x25x17mm)
Ignition side BGM1206TL; bearing dummy crankshaft -BGM PRO- NU2205 (25x52x18mm)
Synthetic bearing dummy
This allows you to try the fit of the crankshaft in the engine casing without the need of force and the crankshaft can still be moved. You can therefore measure without wearing crankshaft or the new bearing out. Perfect, to check the trigger delay angle of the crankshaft (rotary valve inlet) or of the cylinder (outlet timing, transfer timing). Made in Germany
Bearing dummies by BGM PRO are available in the Scooter Center Scootershop: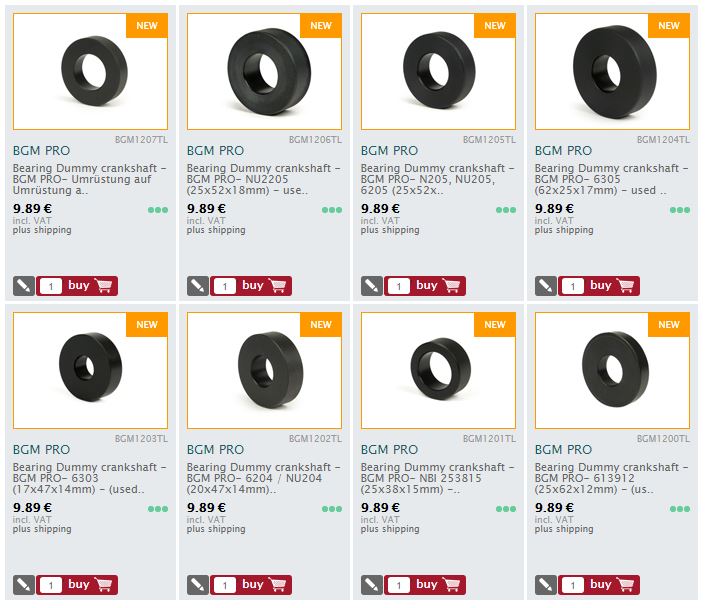 This post is also available in: Deutsch Italiano Français Español
https://blog.scooter-center.com/wp-content/uploads/2016/05/bearing-dummy-bgm-pro.jpg
3000
4000
Jenny Haas
https://blog.scooter-center.com/wp-content/uploads/2016/04/Scooter-Cejnter-SC-Logo-2016.png
Jenny Haas
2016-05-31 15:07:50
2016-05-31 15:07:50
Bearing dummies crankshaft -BGM PRO- for Vespa and Lambretta