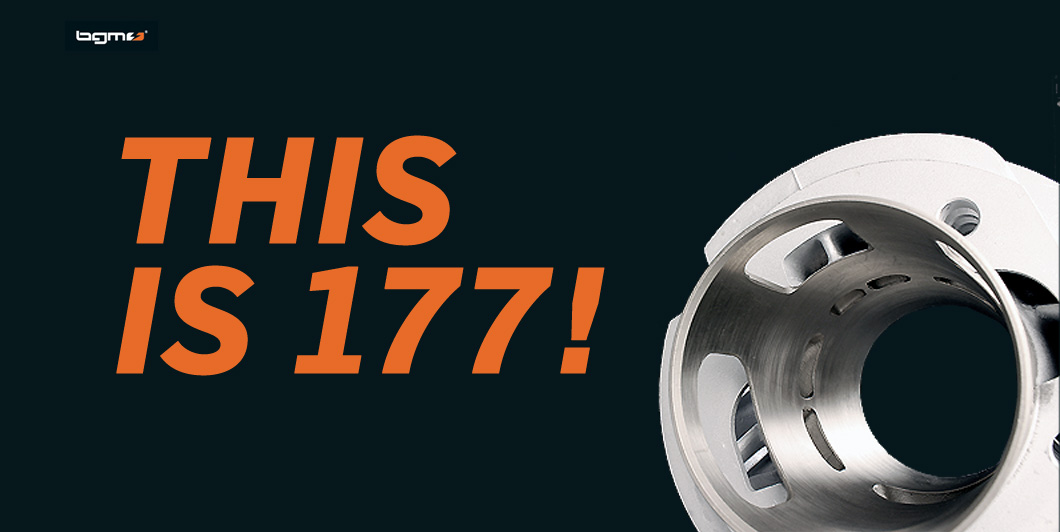 BGM177 – the new cylinder by BGM PRO
Cylinder -BGM PRO 177 ccm- Vespa PX125, PX150, Sprint150, GTR125, TS125, Cosa125, Cosa150
We would like to present the new BGM177 cylinder, which will be available in April 2016.

First video of BGM177 – 177cc cylinder for Vespa
At Scooterists Meltdown we have shown the cylinder for the first time. The new online scooter magazine SLUK interviewed Philipp and published an exclusive video about our new cylinder:
Fits
all Vespa 125 / 150 largeframe engines
with 3 transfer ports.
For instance:
Vespa PX125
Vespa PX150
Sprint 150Veloce
Vespa GTR125
Vespa TS125 and
Cosa 125/150.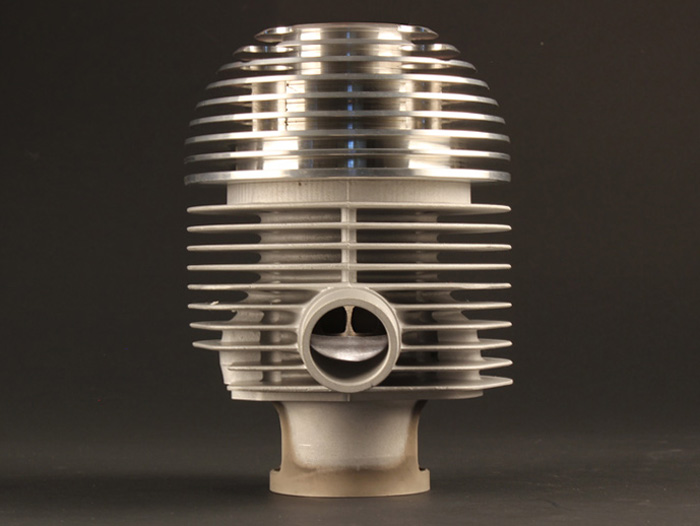 Powerful and reliable cylinder made of alloy
We have designed a powerful and reliable companion for you.
We have put many ideas into practice to design a cylinder with the highest possible wide range of performance.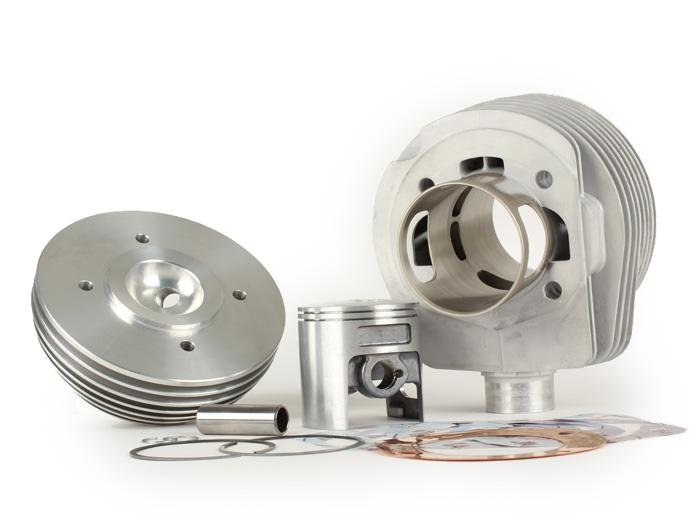 BGM177 was made of alloy, just like all modern cylinders.
Very good heat dissipation is one advantage, which is positive for lifespan, consumption and performance.
The cylinder hole is coated with nickel, silicon and carbide and extremely wear resistant. The forged piston is made of alloy and has two piston rings.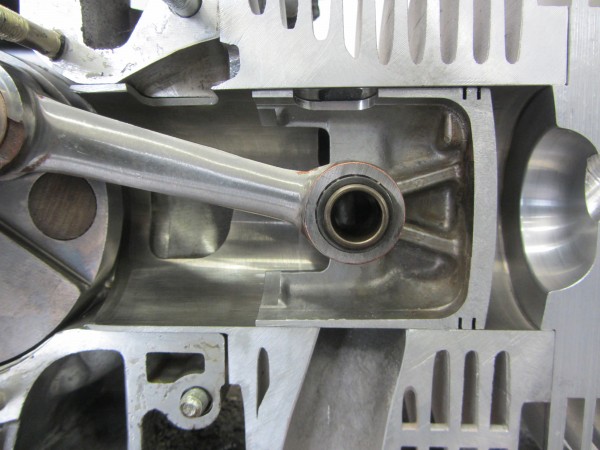 Very light piston
The design of the piston paired with a high degree of silicon in the material used, generated a lightweight of 193 grams with high thermal and mechanical stability, which is positive for torque and smooth running.
The piston rings are 1mm thick and are being produced by a renowned Italian manufacturer, which also supplies leading piston manufacturers like Vertex and Meteor. The thin rings minimise friction, which increases performance and make it possible to easily enlarge the outlet duct window.
The gudgeon pin is biconic, which means that its inner ends are thinner than the middle part, further reducing the weight of moved massed.
Alloy cylinder with ceramic coating and large transfer ports
Large ducts and large transfer ports in the cylinder are the best basis for a wide range of performance and an early torque.
The BGM177 can be combined with simple serial components, like the original SI20 carburetor and an original exhaust. This already increases performance significantly. A modern designed cylinder leads to very low consumption at high torque in the low revs range.
Cylinder with vast potential for tuning
Do you want more performance? The BGM177 offers plenty of potential and possibilities to further increase performance with a minimum of work. The cylinder reacts very well to larger carburetors and support by an exhaust like the BGM BigBox Touring.
Transfer ports in the cylinder base can easily be enlarged. The two large transfer ports on the left and on the right are only slightly covered, so that you can easily open them up with a small hand drill. So you can either fit the cylinder to an already adapted engine casing or copy the duct profile to an engine casing.
CNC-milled cylinder head
The CNC-milled cylinder head has many cooling areas and the hole in the centre of the cylinder head prevents air of being stored in the combustion chamber.
It's also possible to place a temperature sensor in the hole of the cylinder head. This position close to the combustion chamber grants a reliable measurement of temperature.
Placing a temperature sensor below the ignition plug using an adaptor ring or above the thread outside the cooling fin are commonly used methods, but they don't generate reliable results. In these cases you can only see the temperature of the cooling air close to the ignition plug or the temperature of the cylinder head at the outside of the cooling fin. We think that these positions are simply unsuitable to gain reliable results. BGM therefore prefers a position as close as possible to the combustion chamber.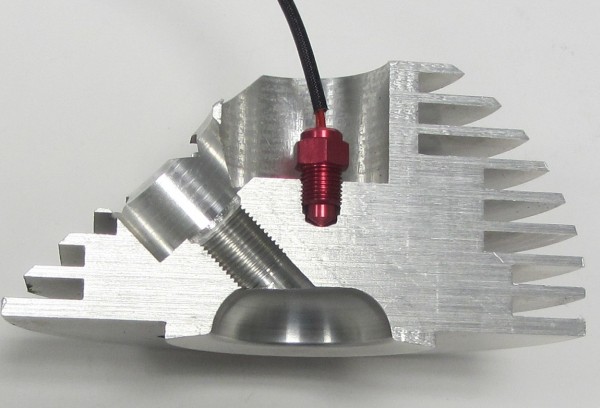 Combustion chamber for wide performance range
The combustion chamber was designed to grant a wide performance range. A strong expansion exhaust chamber may be used after adapting the squish gap, thanks to the design of the cylinder head insert. With a 57mm engine displacement and a touring or box exhaust you can use the provided gaskets to adjust the squish gap to 1mm.
You are using the cylinder with an expansion chamber exhaust and 60mm engine displacement? We would recommend starting with a squish gap of 1.2mm.
Timings 57mm
With an engine with a stroke of 57mm and a squish gap of 1mm, you will reach the following values:
Compression 10.3:1
Transfer timing 118°
Exhaust timing 171°
Thanks to the dimension of the cylinder you will only need a 4mm gap to centre the cylinder head in the hole. The gap will prevent the cylinder head to stick out into the combustion chamber, even if you adapt the engine displacement. With an engine displacement of 60mm and depending on the engine concept you can lift the cylinder even further to achieve significantly larger transfer port angles.
Timings 60mm
With an engine with a stroke of 60mm and a squish gap of 1mm, you will reach the following values:
Compression 10.8:1
Transfer timing 123°
Exhaust timing 173°
The outlet width is 42mm (66%) and therefore offers positive conditions for an engine with high torque at small trigger delay angles.
BGM177 vs PX 200 12HP
Plug & play with a lot of power
This is a comparison between a BGM177 and a standard Rally200 with 12HP Piaggio cylinder (comparable to a Vespa PX200 GS).
The BGM177 cylinder has not been adapted for this experiment and is used with a Sprint Veloce engine.
Intake, crankshaft and engine ports have not been adapted.
We only attached a SI24 carburetor of the 200cc models without adapting the carburetor box or engine casing and combined it with a BGM BigBox Touring.
Jets are very similar to those of a standard 200cc version:
Main air correction jet: 160
Atomiser: BE3
Main jet: 125
Idle jet: 55/160
Air filter: standard (no additional holes)
Ignition advance was adjusted to 19° before the upper dead centre .
You can clearly see the wide range of performance (straight line) and the high torque (dotted line) at idling even with a non-adjusted engine.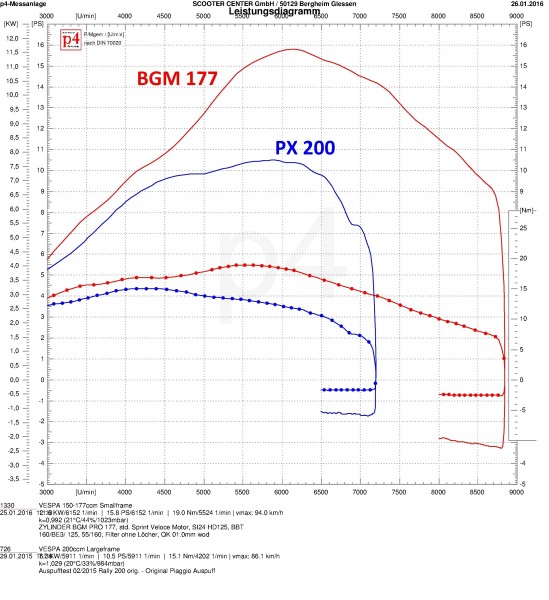 [table id=3 /]
The next post will be on increasing performance with this cylinder and a LML reed valve engine will serve as basis.
This post is also available in: Deutsch Italiano Français Español
https://blog.scooter-center.com/wp-content/uploads/2016/02/vespa-177-bgm-cylinder.jpg
532
1060
Jenny Haas
https://blog.scooter-center.com/wp-content/uploads/2016/04/Scooter-Cejnter-SC-Logo-2016.png
Jenny Haas
2016-03-01 08:39:07
2019-11-05 11:47:18
177cc cylinder BGM PRO for Vespa PX, Sprint & Co.