bgm PRO Variomatic for Piaggio Quasar engines, e.g. Vespa GTS
with extra long translation bandwidth
perfect draught and
high rear wheel power.
The bgm PRO variomatic uses a shorter and Kevlar reinforced V-belt than usual for Quasar engines. This allows our Vario to run a much wider range of ratios without the V-belt being able to touch the housing, as is the case with a Malossi Vario. As a result, the bgm Vario can drive a much wider range of ratios without the engine having to turn higher. A huge advantage, especially when the engine needs further tuning.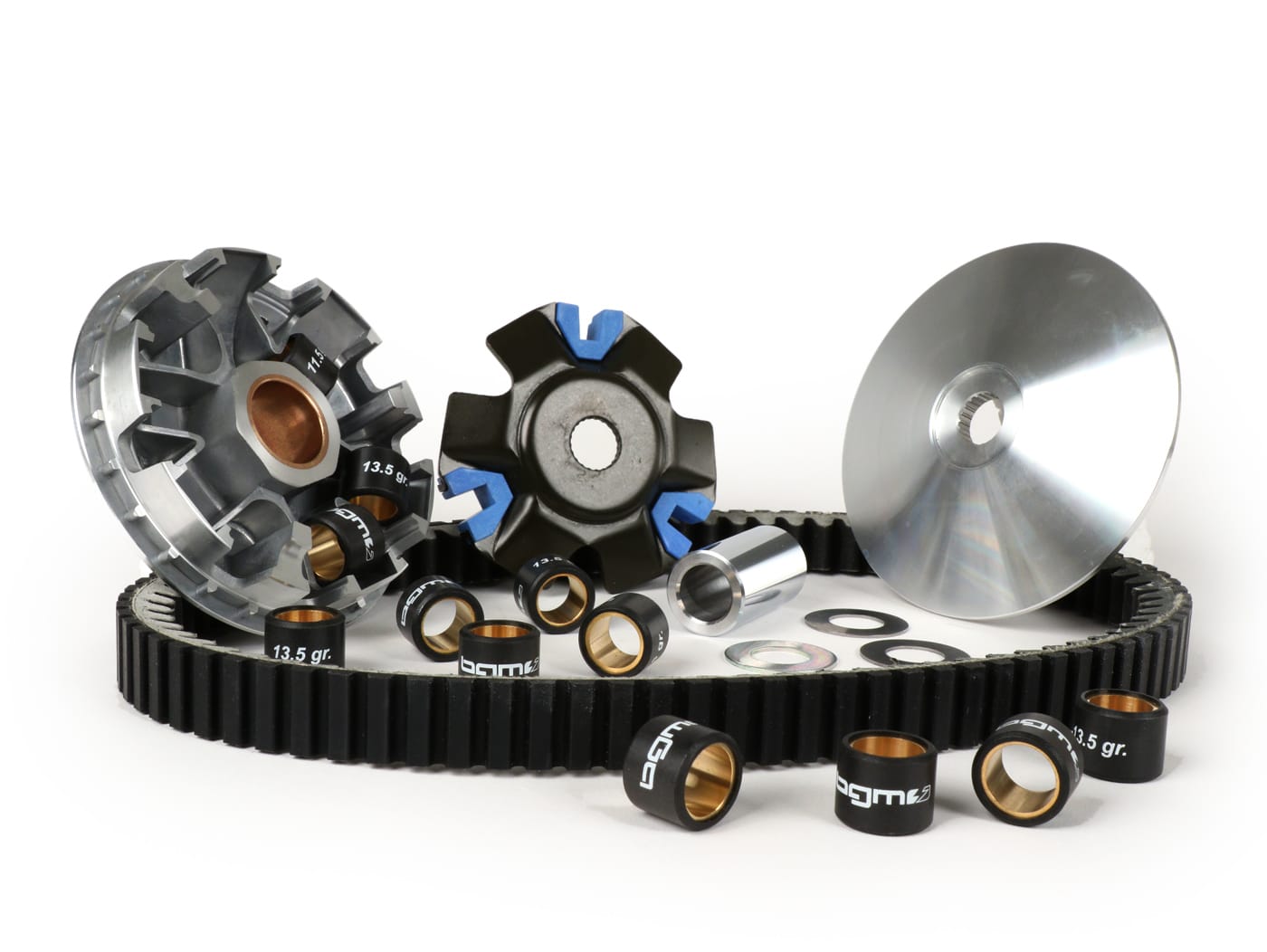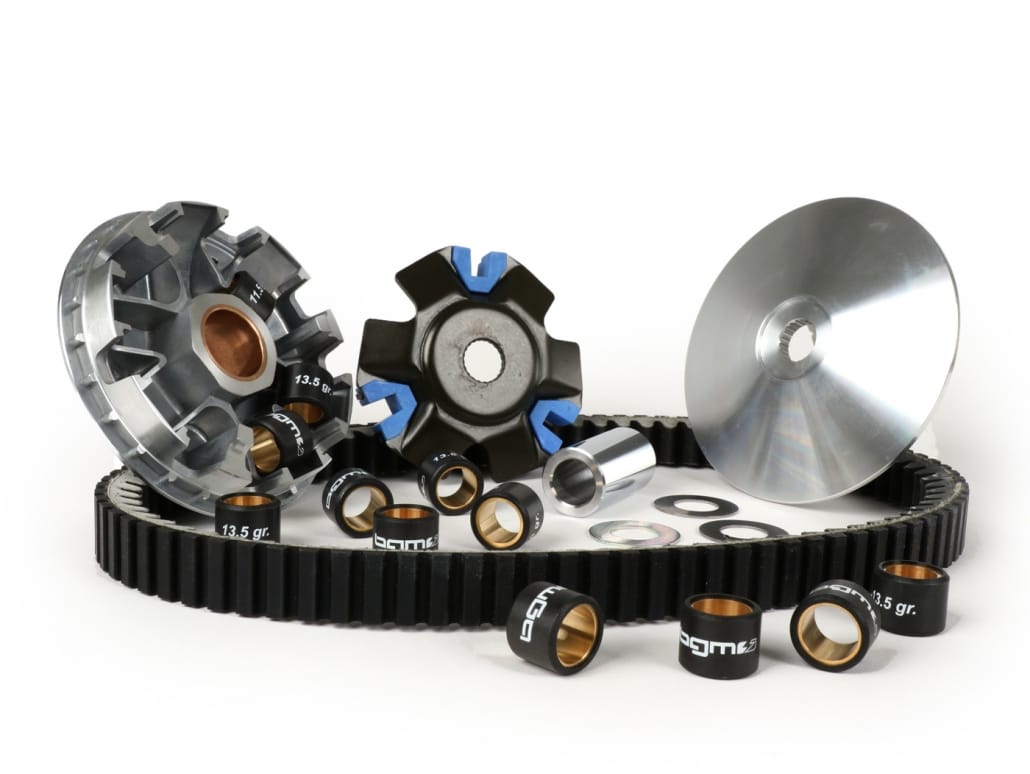 Engine power directly at the rear wheel
The countless bench and road tests have shown that the 250/300cc Quasar engines do not require a harder or different back pressure spring than the standard one. This means that the entire engine power is not lost in frictional heat but ends up where it belongs: at the rear wheel.
Vespa GTS Variomatic Test
With the Piaggio series variomatic, the engine runs into the governor much earlier. The power is therefore maintained much longer when looking at the speed axis, which is noticeable in a higher final speed.
Compared to the Polini set, the bgm Vario does not work at an artificially increased speed level to get an aha effect. The Polini Vario unfortunately buys its (too) high speed level with a worse efficiency.
Maintaining the same acceleration speed as the standard engine results in our bgm Vario-Kit, so that the engine is not loaded higher and the power output is pleasantly linear. In everyday use the superiority of the bgm Vario-Kit is clearly demonstrated in a direct 1:1 comparison.
bgm Buy PRO Vario-Kit here
Scope of delivery BGM2311V2
Variator
front pulley
V-belt: aramid reinforced (Bando)
Weights:
21x17mm 12,5g (250cc)
21x17mm 13,5g (300cc)
Spacers for belt pulley: between bushing and front belt pulley 1x 1,3mm, 1x 1,0mm
(both discs must be mounted)
Distance washer for belt pulley: between fixing nut and front belt pulley 1x 1,0mm
bgm Buy PRO Vario-Kit here
Fits the following vehicle models with quasar motor:
Peugeot Geopolis 250 IE ABS (2006-2009, VGAN2ADAA)
Peugeot Geopolis 300 IE (2010-2016, VGAN2AGAA, type MIU)
Peugeot Geopolis 300 IE (2010-2016, VGAN2AGAA, type ST)
Peugeot Geopolis 300 IE (2011-2016, VGAN2AGAA, type XN)
Peugeot Geopolis 300 IE (2013-2015, VGAN2AGAA, type EV)
Peugeot Geopolis 300 IE (2013-2016, VGAN2AGAA, type X)
Peugeot Geopolis 300 IE (2016, VGAN2AGAA, type EV2D)
Peugeot Satelis 250 IE (2006, VGAJ2ADAA)
Peugeot Satelis 250 IE (2007, VGAJ2ADAA, Type X)
Peugeot Satelis 250 IE ABS (2006, VGAJ2ADAA, Type S)
Peugeot Satelis 250 IE ABS (2007, VGAJ2ADAA, type SC)
Peugeot Satelis 300 IE (2013-2016, VGAJ2BGAA)
This post is also available in: Deutsch Italiano Français Español Nederlands
https://blog.scooter-center.com/wp-content/uploads/2020/04/variomatik_bgm_pro_v2_piaggio_quasar_motor_250_300_ccm_vespa_gts-bgm2311v2.jpg
555
600
Heiko Lepke
https://blog.scooter-center.com/wp-content/uploads/2016/04/Scooter-Cejnter-SC-Logo-2016.png
Heiko Lepke
2020-05-05 10:25:21
2020-05-05 10:25:21
Variomatic Vespa GTS bgm PRO Vespa Piaggio 250-300 cc Quasar engines