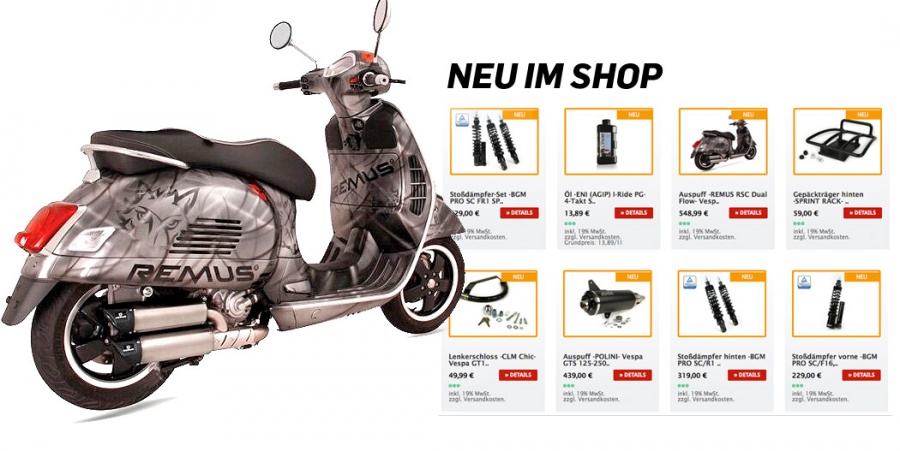 New products for new Modern Vespa GTS and Co
The following modern Vespa tuning products are brand new in our Scooter Center Scootershop:


The highlights are:
Modern Vespa shock absorber with TÜV registration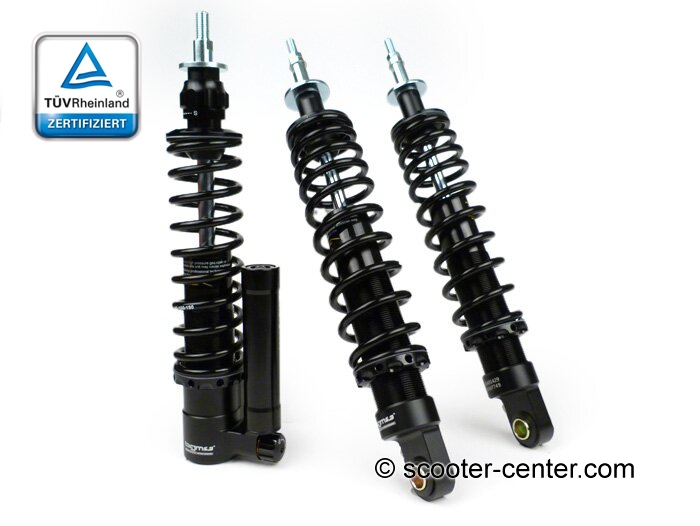 HighEnd Vespa suspension by BGM with TÜV registration / e-pass for Vespa GTS and Co. Available individually or as an affordable set:
Polini exhaust Vespa GTS & GTV with registration
Polini offers a new sports exhaust for Vespa, which is a great alternative to well known candidates.
The RX racing exhaust for Vespa by Malossi is produced by Arrow. And so is the exhaust by Polini, which is a guarantee for solid and fine processing. The outer shell of the exhaust is made of alloy with a matte and brushed surface and interior and manifold made of stainless steel.
When we visited Polini we were able to convince ourselves by the throaty sound and awesome looks of the new Vespa exhaust by Polini prior to delivery.
The DB-Killer insert is quickly (diss)assembled and only fastened by a locking ring.
Like almost any exhaust for GTS/GTV models, this exhaust is produced as so-called slip-on version, which means that the included manifold is easily fastened to the original outlet nozzle of the vehicle. The lambda sensor remains at its position and does not need to be touched in order to assemble the exhaust: easy and quick assembly
The exhaust by Polini for new Vespa models features an E(9) homologation for sound for the following vehicles:
VESPA 125 GTS – M45 var.3 ver.0/1
VESPA 250 GTS – M45 var.1 ver.0/1
VESPA 250 GTV – M45 var.1 ver.2
VESPA 300 GTS/GTV – M45 var.2 ver.0/2
Double exhaust for Vespa GTS and Co
Spectacular twin tube exhaust with twin muffler for Vespa GTS: Vespa exhaust Remus RSC Dual Flow.
This muffler for Vespa has an EC registration. However it is illegal to use it on public roads without a plug-in catalytic converter.
Eni – high performance oil 4 stroke modern Vespa
Eni i-Ride PG 5W-40 is a 4 stroke engine oil with top synthetic technology by Eni. It was developed for 4 stroke high performance engines and may also be used in racing.
Quality feature:
Outstanding shear stability is one feature of this stay-ingrade oil, even after a long ride in tough conditions. The thermally stable synthetic base oil features an extremely low evaporation rate, which leads to a low consumption of oil.
The Eni Research & Development labs developed this special formula to grant highest performance in terms of detergents and dispersants, corrosion prevention, prevention of foam formation, oxidation stability and wear protection.
Areas of use:
Eni i-Ride PG 5W-40 is recommended, if you want high engine performance and a reliable lubricant film.
Specifications:
ACEA A3
API SL
Jaso MA
Jaso MA2
Piaggio-group
Replacement for Agip Formula Moto City Hi Tec 4T 5W-40 and Racing 4T 5W-40
This post is also available in: Deutsch Italiano Français Español
https://blog.scooter-center.com/wp-content/uploads/2015/10/modern-vespa-tuning-teile.jpg
451
900
Jenny Haas
https://blog.scooter-center.com/wp-content/uploads/2016/04/Scooter-Cejnter-SC-Logo-2016.png
Jenny Haas
2015-10-23 11:38:27
2015-10-26 14:02:02
New products for Vespa GT, GTS, GTL, GTV