BGM PRO Vespa shock absorbers successful in ASCC race!
Just as we do for our Scooter Customshow, Austrians also cooperate: ASCC – Austrian Scooter Challenge Cup – is Austria's racing series for classic scooters, automatic scooters and electric scooters.
Every season consists of seven races with two runs each. At the end the 2 worst race day results are subtracted.
Successful with products of Scooter Center and BGM
Lukas Schossmann is the big surprise of this season. As member of the sQooter racing team he already won 4 races. The team bets on many tuning parts by Scooter Center Cologne. Quattrini engine with M1L-60 cylinder and crankshaft with 51mm stroke. Suspension: BGM Pro shock absorber for Vespa PK front and rear. The braking system with a radial brake master cylinder in front is also made by BGM.
Only 5 Euros shipping fee to Austria
Scooter Center delivers very quickly via UPS and DHL for 5 Euros shipping fees to Austria – up to 31kg, you can order a lot.
Order now in the Scooter Center scooter shop
ASCC – innovative and modern scooter racing series in Austria
ASCC supports trying well known and new products during training. Thus enabeling the drivers to rent and try suspension for instance. Many racers, however, also install these products in their street scooters and recommend these products to friends and family.
The organisation team of ASCC did not spare any efforts and heavily invested in season 2015. They now own a timekeeping device and from race day #2 (25th of April in Greinbach) onwards all races will be documented via MyLaps Live-Timing. This is the next generation of timekeeping with live-app on smart-phone and tablet, live-timing online and on screens at site, as well as offering various information to displays of the drivers. You can find racing results on www.ascc.at or on www.mylaps.com (choose Austria in "all countries").

1st race day in Tulln. A raging success
Waiting has an end on the 11th of April 2015: the first race of the new season was about to start. So were 23 scooterists and several thousand spectators and fans who could not wait to see the start of the first race in 2015. At the same time, a motorbike fair (the largest in Austria in 2015) offers the possibility to present ASCC, the teams and oneself to an interested audience. What happened?
Many spectators were there on Saturday morning to see the qualifying. The weather was perfect. Drivers were motivated. And the perfect surprise: Newcomer Lukas Schossmann of team sQooter.com won the pole position with a lap time of 22.8sec. Thomas Lukaseder of GP-one started from position 2 and Thomas Prasch, the overall winner of 2014 of the Horny-Hornets, started from 3.
The first race started at 2 pm and took, like any other ASCC race, 15min + 2 laps. The track turned out to be rather slow, narrow and highly selective. Therefore many drivers fell and there were many defects, luckily, nothing was really bad though. Lukas Schossmann, the surprise, didn't have any difficulty and celebrated his first win. Thomas Prasch finished 2nd and Christoph Lafer 3rd. Organizer Ron: "We knew in advance about the narrow and slow track. But all the racers were fair."
Race 2 saw an even larger audience, which witnessed more race-action and exciting fights for the lead. Lap times were tight, the lead changed, drivers were lapped. All the drivers were convinced: "Tull was awesome. And a large audience, cool." Schossmann and his BGM PRO Vespa suspension also finished first in race 2, in front if Prasch and Kirchhofer.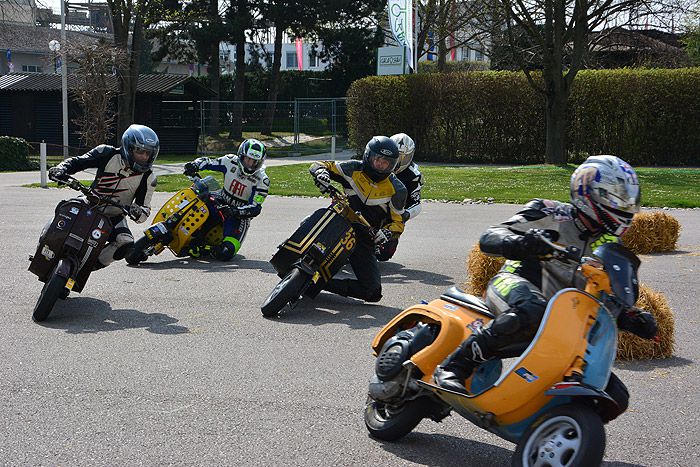 Race day 2: Greinbach All or nothing!
All the racers of ASCC agree: "All or nothing!" is the slogan for the track of PS-Racing Center in Greinbach. Either you pull through the long high speed bend (more than 100km/h), don't care about the bumps at its end and perfectly meet all the load alterations or you loose.
And this happened on race day #2 on April, 25th 2015: only those racers without fears and with the most experience reached for the podium. Gerhard Konrad, local hero and member of HG-Racingteam, was forced to quit early (damage on a cylinder during training). This paved the way for the 3 best racers of the season: Lukas Schossmann, Thomas Prasch and Rainer Kirchhofer. Christopf Lafer of the VorResoSchalter team surprisingly put pressure on them and even finished third in the second run.
Schossmann and Prasch battled for the lead for some rounds, which were the most exciting scenes of the day. Due to a badly adjusted clutch, Schossmann lost his pole-position right away. But he won the race in front of Prasch and Kirchhofer. Schossmann and his BGM shock absorbers gained another full 25 points, in front of Prasch on two and Christoph Lafer on three.
ASCC pictures / photos
Here you can find many great pictures of the races:
ASCC results / table
Current overall table:
This post is also available in: Deutsch Italiano Français Español
https://blog.scooter-center.com/wp-content/uploads/2015/05/BGM-Pro-Vespa-shock-absorbers-vespa-racing.jpg
370
647
Jenny Haas
https://blog.scooter-center.com/wp-content/uploads/2016/04/Scooter-Cejnter-SC-Logo-2016.png
Jenny Haas
2015-05-07 15:27:01
2015-05-11 14:37:45
Vespa shock absorbers BGM PRO once again prove their worth in racing sports