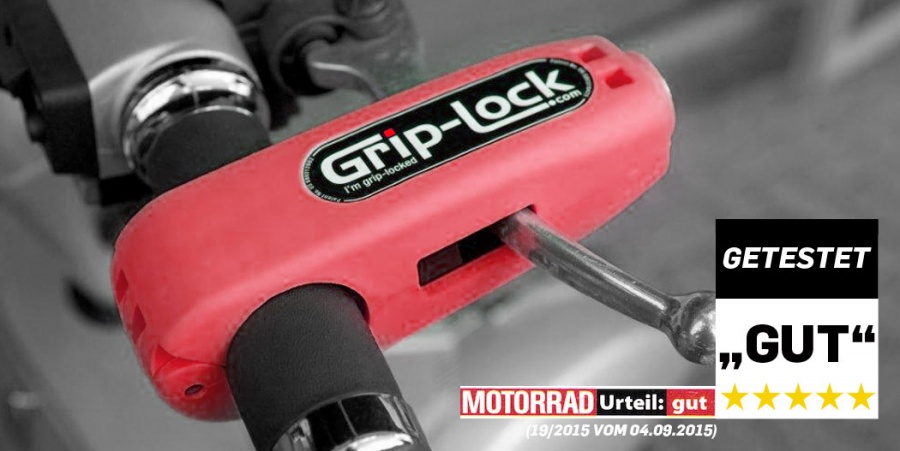 Protect your scooter from theft
Customers whose scooters have been stolen call us for help over and over again. Most of the time it is about precious collector's items like the Vespa or Lambretta models.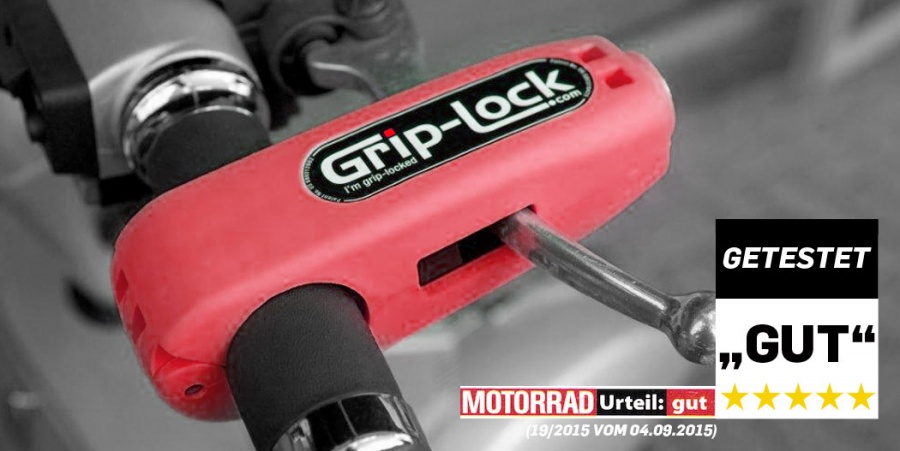 Therefore, we want to point out once more that we have locks on offer. Unfortunately, you can never be 100% secure but it gives you a good conscience when parking your scooter with a lock system attached to it – even in your own garage/basement. Attach it to a chain and also an additional lock that makes it impossible to ride the scooter or push it away, e.g. the Grip-Lock – system, that locks the throttle and the brake lever in braking position and blocks the front wheel.
Grip-Lock test rating: GOOD
In the current issue of MOTORRAD (of 4 September 2015) in the advice section "Ratgeber" you will find a report about the Grip-Lock "Ausprobiert" [tried it out].
MOTORRAD rating: good
Grip Lock secure protection against theft for scooters
Grip-Lock is a long-life – high security lock
Suitable for almost all scooters
Cannot be picked with ordinary lock-picking devices
Very robust against drilling attacks
Maximum longevity and uncompromising security under all conditions
3 year warranty
"RollerSzene" of the Syburger Verlag has already tested the Grip-Lock device, too:
"Of course, the Grip-Lock is no alternative to a chain or a garage. Yet, it is small enough to be carried along at all times, it is easy to use and during short breaks it possibly gives you the decisive plus in security against theft." Link to the complete article (in German)
GRIP LOCK security lock
For the brake and clutch lever
GRIP-LOCK security lock is probably the easiest and most effective way to secure your scooter, quad or motorcycle against theft.
Minimum packing dimension (easily fits into the glove box/toolbox/topcase/bag)
Fits nearly all scooters, mopeds, motorcycles and ATV's. 27-38mm grip diameter
Impossible to forget taking it off, contrary to rim lock systems
Weight: only 330g
Dimensions: 15×4,5×4,5cm
Buy Grip-Lock here
This post is also available in: Deutsch Italiano Français Español
https://blog.scooter-center.com/wp-content/uploads/2015/09/grip-lock-schloss-test-gut1.jpg
451
900
Jenny Haas
https://blog.scooter-center.com/wp-content/uploads/2016/04/Scooter-Cejnter-SC-Logo-2016.png
Jenny Haas
2015-09-14 12:46:21
2015-09-14 12:46:21
Grip-Lock scooter-, Vespa- und motorcycle – lock – The test