Individual gift ideas for scooterists by the Scooter Center team
Name: Daniel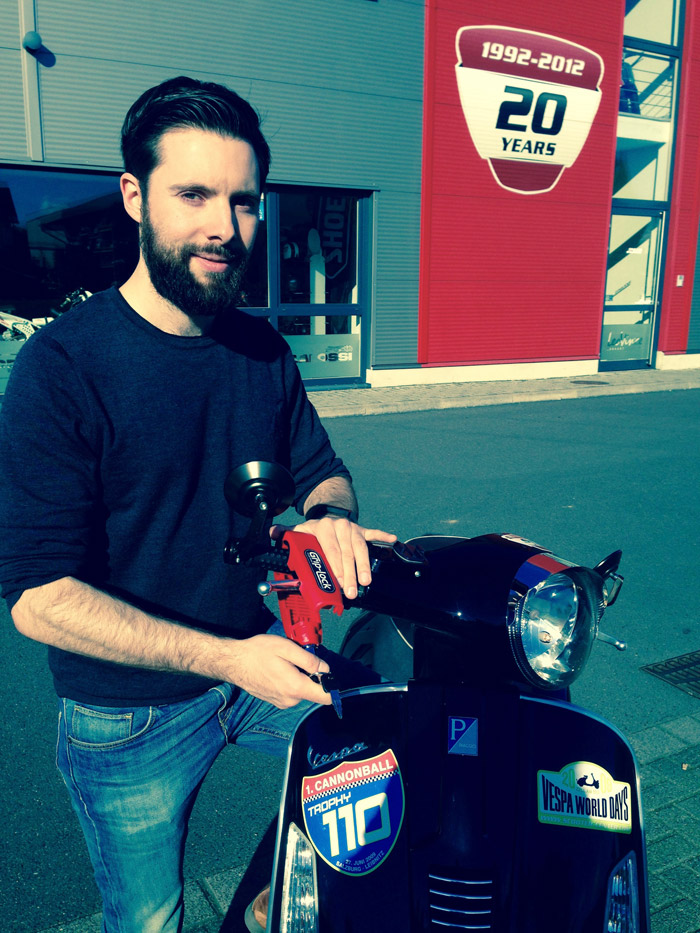 How long have you been working for Scooter Center:
For approx. 16 years
What is your task at Scooter Center:
Purchase Europe, general administration
What's your relation to scooters:
I ride scooters since 2004. My first scooter was a Gilera Runner FXR with an enormous acceleration and speed that filled me with enthusiasm. This was also true for others, so sadly it was gone one day… :-(
Therefore the "GRIP-LOCK" lock for brake lever is my gift idea.
Gift idea for scooterists
Lock – security lock – lock for brake lever -GRIP LOCK- for brake lever, clutch lever – yellow, black or red
Part no. 7674997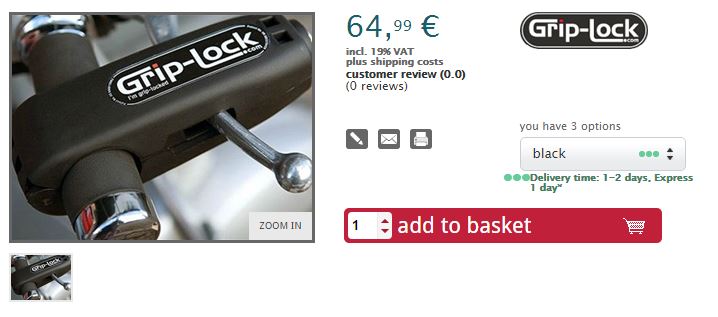 Why:
It is small and quickly put in place and taken off. At the same time it's robust and almost impossible to break.
Compared to brake disc locks, it is impossible for you to forget to take off the lock before going for a ride.
Had I had this lock, I would probably still ride my FXR!
Grip-Lock the express-lock - also available for scooters
ASSEMBLY
Putting the Grip-Lock in place and taking it off takes less than 10 seconds.
PROTECTION
The Grip-Lock comes in a bright colour and is easy to make out on the handlebar. That scares potential thieves off immediately! But naturally, that alone is not enough: The Grip-Lock's interior consists of four strong steel bolts made from tempered spring steel, that effectively prevent theft with the help of a saw or other cutting tools. Thanks to its reinforced nylon-fiber outer cover it is absolutely stainless.
SECURE
With the throttle secured, it is impossible for you to forget to take off the lock before going for a ride. In regard to brake disc locks or other external locks, a forgotten lock can cause severe damage to the vehicle.
BASF-special nylon featuring fiberglass reinforcement that is used for Grip-Lock is 200% stronger than ordinary multi-purpose plastics and makes the security device especially strong and rigid.
CLEAN
Grip-Lock is cleaner and easier to use than complicated and messy brake disc locks or chain locks that first need to be squeezed between the frame or spokes.
This post is also available in: Deutsch Italiano Français Español
https://blog.scooter-center.com/wp-content/uploads/2015/11/geschenk-grip-lock-schloss.jpg
532
1060
Jenny Haas
https://blog.scooter-center.com/wp-content/uploads/2016/04/Scooter-Cejnter-SC-Logo-2016.png
Jenny Haas
2015-11-27 15:29:47
2015-11-27 15:29:47
Gift idea for scooterists – Grip-Lock the security lock for scooters