Pillion foot peg adaptor for Vespa GTS & Co.
The GTS is a beautiful Vespa. But the story often goes that driving pleasure with pillion is reduced due to lacking space in the footwell.
We want that you and your pillion can fully enjoy the ride and have included nice foot peg adaptors in our program.
After having assembled the adaptor you as driver will have more space in the footwell and your pillion no longer needs to watch out to not bore holes into your leg with the tips of the shoes from behind.
Easy assembly
It's easy as assembly.
Just assemble the adaptor in place of the original foot pegs by using the supplied screws. Then screw the original foot pegs on the adaptor.
Two M8 screws fasten the original foot pegs behind the folding mechanism. You will need a WS5 allen key to attach them to the frame.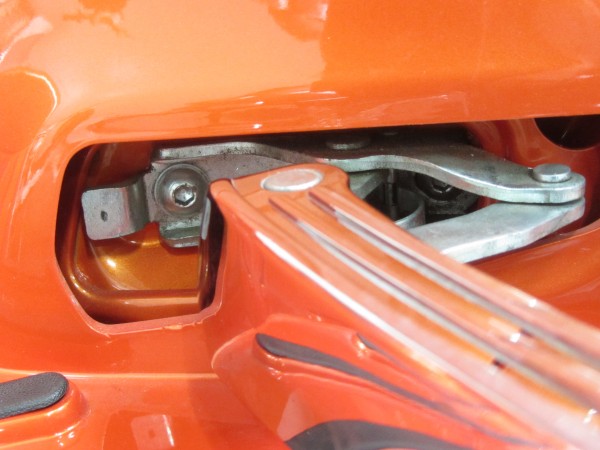 For detaching you will need either a fitting ratchet or an allen key with spherical head.
Screws needed for assembly are supplied. Please be aware: each adaptor comes with two screws of different length.
You will simplify your work by fastening the longer back screw (seen from direction of travel) first, followed by the front screw.
Once the adaptor is securely fastened, reattach the foot peg with the original screws.
Thanks to the folding mechanism, the foot peg will fit tightly on the frame again without destroying the silhouette of the GTS.
Available in black and silver
The adaptor is available in black anodised or silver anodised.
This post is also available in: Deutsch Italiano Français Español
https://blog.scooter-center.com/wp-content/uploads/2016/05/foot_peg_adaptor_vespa_gts.jpg
3000
4000
Jenny Haas
https://blog.scooter-center.com/wp-content/uploads/2016/04/Scooter-Cejnter-SC-Logo-2016.png
Jenny Haas
2016-05-27 10:19:18
2016-05-27 10:19:18
Foot peg adaptor pillion CNC -SCOOTER CENTER- Vespa GT, GTL, GTS, GTV 125-300