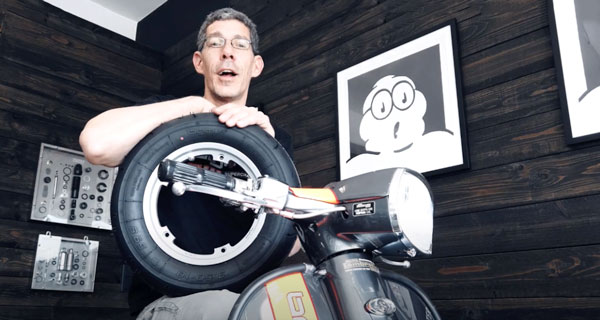 PIRELLI SL26 3.50-10 Alternative
Pirelli has now stopped production of the sporty scooter tyre PIRELLI SL26 3.50-10. The tyre for Vespa, Lambretta and Co. is no longer available.
Our alternative: the tyre bgm Sport 3.50-10 59S 180 km/h (reinforced) MADE IN GERMANY
The new bgm SPORT tires are available as tube and tubeless version. The Pirelli SL26 was also Reinforced but only approved up to 100km/h, the bgm PRO is approved up to 180 km/h – this should offer enough reserve for every scooter, no matter how extreme the tuning.
Features bgm SPORT:
Sport tyres with approval up to 180 km/h (Sport) ideal for high-performance engines and corresponding entries
Additional REINFORCED marking.
Extremely strong carcass for perfect straight-line stability and excellent line fidelity during fast cornering.
V shape instead of U shape. This means that the tyre steers much better into the bend and offers more contact area when leaning.
Specially adapted material mixture (Silica Compound) for excellent grip in dry and wet conditions.
100% Made in Germany.
The bgm Sport tyre is the right choice for all sporty ambitious drivers. With superior rubber compound and sophisticated tread pattern, this tyre can handle all situations. The release up to 180 km/h makes it definitely the first choice for all powerful engine concepts.

All bgm tyres
Tyres PIRELLI SL26 3.50 10 inch TL 59J (reinforced)
SPORT-TOURING PROFILE FOR SCOOTERS
The Pirelli SL26 comes from the motorcycle world and has been optimized for the scooter.
Optimized for versatile scooters in city traffic. Maximum control in any weather. Safety and reliability for the new generation of scooters in all urban conditions
Tread with wide grooves for superior wet performance, comfortable driving and high mileage
Efficient use in all seasons in all weather conditions
Available in standard sizes for 10 to 13 inch rims
The tread pattern layout and size of the Pirelli SL 26 3.5-10 59J scooter tyre gives good wet performance and ensures good mileage and comfort.
FEATURES
FUNCTION
Mixture from the motorcycle world
High resistance to cracking and higher mileageExcellent
cost-performance ratio
Highly resistant nylon carcass
High elasticityBest
comfort and unchanged reliable performance
General
EAN:
8019227053166
Tyres
Profile type:
Street
Tire dimensions:
3.50
Rim size:
10
Load capacity index:
59
Speed index:
J (100km/h)
License plate Reinforced:
YES
Manufacturer
Pirelli
Type of tyre
Scooter
Model
SL26
Dimension
3.50-10 RF TL 59J rear wheel, front wheel
Width
3.50
Dimension
10
Load Index
59
Speed index
(J)
With/without scarf (TT/TL)
Tire does not need an inner tube
M/C
Yes
#bgmTyres
Neue Motorroller Reifen für Vespa, Lambretta & Co. von bgm - Made in Germany
All bgm tyres
https://blog.scooter-center.com/wp-content/uploads/2020/07/pirelli-sl26-alternative.jpg
320
600
Heiko Lepke
https://blog.scooter-center.com/wp-content/uploads/2016/04/Scooter-Cejnter-SC-Logo-2016.png
Heiko Lepke
2020-07-09 15:13:09
2020-07-09 15:13:09
PIRELLI SL26 3.50-10 Pirelli has stopped production – the alternative