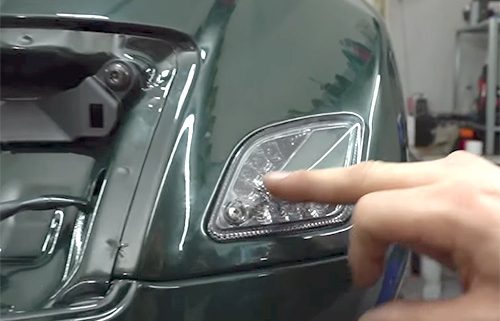 De perfecte indicatoren voor uw Vespa GTS conversie
We hebben de populaire LED-indicatoren met dynamisch looplicht van MOTO NOSTRA al geïntroduceerd. Onze partner Cafe Racer 69 gebruikt de indicatoren ook graag in hun Vespa GTS conversies. Niet zonder reden, want de getinte richtingaanwijzers bieden een exclusieve en edele optiek. In actie zijn de GTS looplicht indicatoren spectaculair, bovendien passen ze perfect in het ontwerp en de lijnen van de Vespa GTS carrosserie: zie ook hier in de video!
Gemakkelijk te installeren
Nu staat er een video op Youtube, die de eenvoudige installatie van de LED-indicatoren heel mooi laat zien:
Vespa Gts 300 hpe "British Classic" Teil 6 - Vespa LED Blinker von Moto Nostra
De Vespa GTS LED knipperlichten met looplicht zijn verkrijgbaar in helder glas of zwart getint, individueel voor de voor- of achterzijde en in een betaalbare set: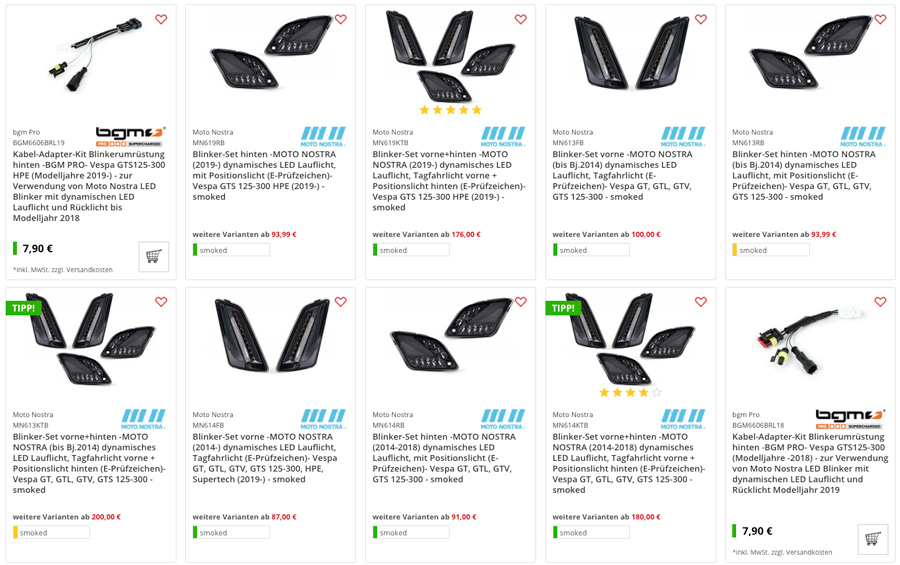 Koop LED-indicatoren voor Vespa GTS
MOTO NOSTRA-indicatoren met dynamisch looplicht voor Vespa GTS
De MOTO NOSTRA knipperlichten hebben individueel gestuurde LED's en produceren zo een volledig dynamisch looplicht, zoals men dat kent van voertuigen uit de hogere klasse (bijv. Audi A7). Het gegenereerde lichteffect is zeer aangenaam en biedt een aangename afwisseling ten opzichte van conventionele knipperlichten. Als extra functie hebben de knipperlichten aan de voorzijde een helderwitte dagrijlichtstrip in plasma-look. Aan de achterzijde wordt dezelfde technologie gebruikt als positielicht.
WAAROM LED? MEER VEILIGHEID DOOR TECHNOLOGIE!
Naast deze prachtige optische verbetering van de scooter en de mogelijkheid om de GTS te individualiseren en zich zo te onderscheiden van de massa, is er nog een belangrijk punt dat spreekt voor deze geweldige LED-bochtaanwijzers:
Deze nieuwe technologie vergroot de optische breedte van de achterzijde in het donker en verbetert de waarneming in het wegverkeer aanzienlijk. De heldere LED's van de knipperlichten zijn al op grote afstand duidelijk zichtbaar. Het looplicht wordt ook optisch beter gedetecteerd dan bij een conventionele richtingaanwijzer.
KWALITEIT
Een bijzondere zorg voor ons was de kwaliteit en de pasvorm. Beide staan op een zeer hoog niveau met de MOTO NOSTRA knipperlichten en zijn daarmee een hoogwaardig alternatief voor de Power 1 knipperlichten.
Daarnaast worden de Moto Nostra richtingaanwijzers altijd geleverd met aansluitadapters. Het is dus niet nodig om wijzigingen aan de kabelboom aan te brengen!
GOEDKEURING: GEEN PROBLEMEN MET DE TÜV
Uiteraard hebben de knipperlichten een keurmerk en zijn ze goedgekeurd voor gebruik op de openbare weg (geen TÜV-goedkeuring vereist).
https://blog.scooter-center.com/wp-content/uploads/2020/07/vespa-gts-led-blinker.jpg
527
500
Heiko Lepke
https://blog.scooter-center.com/wp-content/uploads/2016/04/Scooter-Cejnter-SC-Logo-2016.png
Heiko Lepke
2020-07-28 16:38:34
2020-07-28 16:38:34
Vespa GTS LED-knipperlichten met looplicht