bgm PRO asafdichtingen van hoogwaardig en ethanolbestendig (E10) FKM/Viton®*
Gloednieuw in onze winkel zijn de nieuwe bgm PRO Simmerrings voor vele Vespa en Lambretta modellen: Asafdichtingen bgm PRO
optimale beveiliging
dubbele afdichting dankzij stoflip
aanbevolen voor elke motor Origineel of
getunede high-performance motor
twee keer zo temperatuurbestendig
geschikt voor extreem hoge snelheden
permanent alcoholbestendig – perfect voor scootervergaderingen ;-)
zeer goede gasdichtheid
hoge thermische druk
zeer goed bestand tegen veroudering
bgm PRO Wellendichtringe Viton® - Simmerringe Vespa und Lambretta
WAAROM ASAFDICHTINGSRING VAN FKM/VITON®
Het materiaal FKM (fluorkoolstofrubber) is zeer goed bestand tegen hitte, wrijving en brandstof/ethanol. De huidige superbrandstof in Duitsland bevat al tot 5% ethanol op zich.
In andere landen is het ethanol/alcoholgehalte aanzienlijk hoger. Conventionele radiale asafdichtingen kunnen opzwellen of zachter worden wanneer ze in contact komen met brandstoffen die ethanol bevatten.
De bgm PRO FKM/Viton® asafdichtingen bieden hier een perfecte bescherming tegen. Bovendien is Viton twee keer zo temperatuurbestendig als conventionele (blauwe) NBR-afdichtingsringen , heeft het een zeer goede gasdichtheid en is het ook zeer goed bestand tegen veroudering.
WAARVOOR ZIJN DE SUDDERRINGEN GESCHIKT?
Een motor uitgerust met bgm PRO FKM/Viton® roterende asafdichtingen kan daarom ook met E10-brandstof (10% alcoholpercentage) worden gebruikt. Het hoogwaardige bruine Viton®*-afdichtingsmateriaal is permanent bestand tegen alcohol en is ook geschikt voor motoren met hoge temperatuurbelastingen en hoge toerentallen.
bgm PRO FKM/Viton® radiaalasafdichtingen zijn daarom geschikt voor alle motoren, of het nu gaat om originele of getunede motoren met een hoog vermogen.
Om redenen van milieubescherming en ten gunste van een maximale flexibiliteit van de afdichtingslip vermijden wij bewust een extra belasting van de afdichtingslip door PTFE/Teflon®*
VOORDELEN VAN BGM PER ASAFDICHTING!
De BGM PRO roterende asafdichtingen bieden een dubbele afdichting als extra functie. Alle roterende asafdichtingen die tegen de atmosfeer afdichten hebben een zogenaamde stoflip. Deze wordt voor de eigenlijke afdichtingslip geplaatst en houdt stof, vuil en vocht weg. Dit vergroot de toch al goede stabiliteit nog verder. INDIVIDUEEL & BESCHIKBAAR IN EEN SET De BGM PRO FKM/Viton® oliekeerringen zijn individueel en in sets verkrijgbaar voor bijna alle Vespa- en Lambretta-motoren.
Koop hier bgm PRO-olieregelingen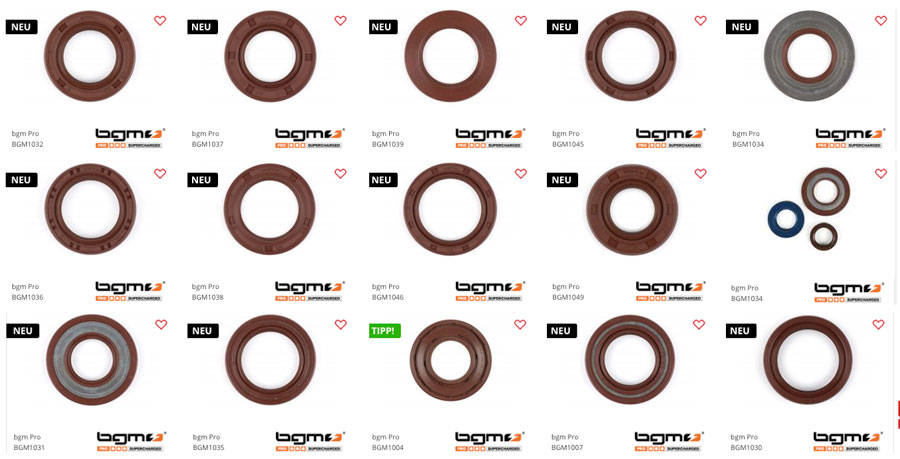 As-afdichtingsring voor Vespa en Lambretta #Asafdichtingsring #Simmerring #bgm PRO
*Viton®/Teflon® zijn geregistreerde handelsmerken van DuPont Dow Elastomers
https://blog.scooter-center.com/wp-content/uploads/2020/09/Wellen-CoverYT-2.jpg
932
1440
Heiko Lepke
https://blog.scooter-center.com/wp-content/uploads/2016/04/Scooter-Cejnter-SC-Logo-2016.png
Heiko Lepke
2020-09-29 17:16:30
2020-10-05 13:13:20
bgm PRO Oliekeerringen / Simmerrings FKM/Viton®