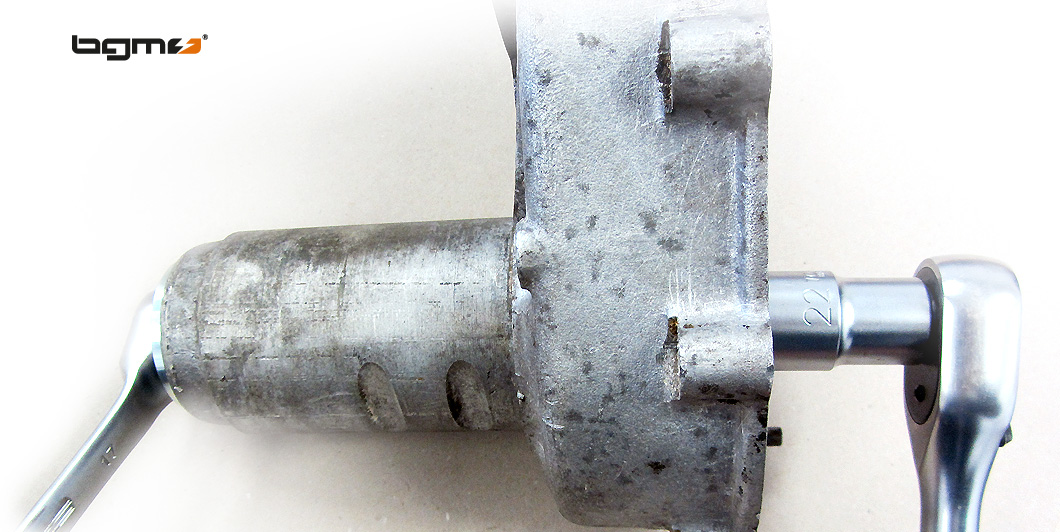 Vespa special tool for vintage scooters
We have added a nice special tool for Vespa by BGM PRO to our program, which is especially suitable for those loving older Vespa models like the GS or younger, also known as wideframes..
Tight drive shaft bearing
The following affects many screw connections of older Vespa ladies: they rust and become to tight to move due to ageing, lacking maintenance and not being used. Sometimes this issue can only be dealt with fiendish tricks.
The bearing shield of the centre main shaft bearing is a fitting example. Usually the threaded face ring, made of plain steel, was exposed to acids, old oil and water for several decades. This was plenty of time to establish an intimate relationship with the engine casing's alloy.
Our special solution works for sure
Sometimes it seems impossible to separate these lovers. In this situation a simple face wrench tends to slip off. We therefore "included" the option of preloading to our tool.
At the end of the bearing guide, you will find a bolt sitting on the drive shaft. This generates preload and prevents the wrench of slipping. You will therefore be able to safely reach the necessary output torque to loosen the nut without a slipping face wrench.
The screw will hardly move? Even then you will be able to loosen it without causing any damage to the threaded ring. Wrench in its guide and threaded face ring have the same pitch. Therefore the tool will follow the loosened ring with the same preload. It's impossible for the wrench to slip off.
It's possible to use both popular wrench sizes of threaded rings with this tool.
Bolt pitch of face holes 37mm suitable for threaded ring with an inner diameter of 28mm.
Bolt pitch of face holes 43mm suitable for threaded ring with an inner diameter of 35mm.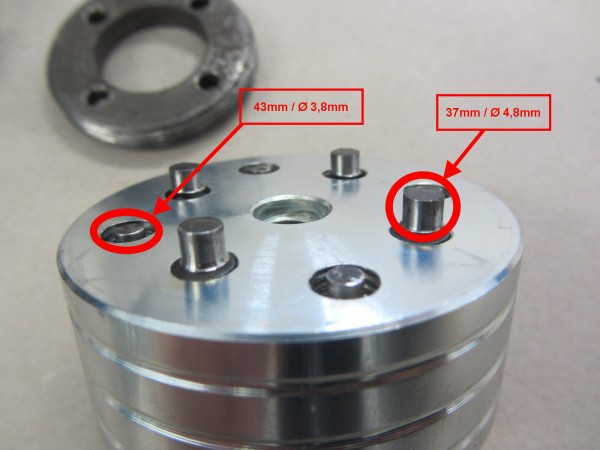 The tool is driven by wrench sizes WS22 and WS17. Threaded pins differ in size, which makes it easy to differentiate.
The large pin (l=25mm) fits the threaded ring with the large inner diameter and the small threaded pin fits the threaded ring with the small inner diameter.
Just in case: both pins are available as spare parts.
Depending on which threaded ring you want to loosen, you can "hide" the other threaded pin in the tool.
Face wrench rear hub bearing -BGM PRO Øi=28mm/35mm, Øbolt circle=37mm/43mm, 4-pin– Vespa Wideframe 98/125/150cc V98,V1T-15T, V30T-33T, Hoffmann HA/HB, VM,VN, VL, VB, VGL, VD, GS150, Piaggio APE A1T-15T, AB1T-4T, AC, APA,
Item number BGM7913TL
BGM PRO special tool for bearing shield of rear hub of any Vespa wideframe model.
Thanks to smart construction, you may use this tool for both bolt circle sizes (Ø37+43mm). You will have the possibility to preload the tool on the nut. Tool and nut have the same pitch, which leads to a constant preload, therefore it's impossible to slip off.
Fits Vespa 98cc, 125cc, 150cc: V98, V1T-15T, V30T-33T, Hoffmann HA/HB, VM,VN, VL, VB, VGL, VD, GS150
Also fits Piaggio APE: A1T-15T, AB1T-4T, AC, APA, APB, AD, AE0
BGM7913TL fits:
125 (1949)
125 (V15T)
125 (V1T)
125 (V30T)
125 (V33T)
98 1 (1946)
98 2 (1946)
98 3 (1947)
98 4 (V98)
150 (VL1T)
150 (VL2T)
125 (VM1T)
125 (VM2T)
125 (VN1T)
125 (VN2T)
150 GS (VS1T)
150 GS (VS2T)
150 GS (VS3T) GS3
150 GS (VS4T) GS3
150 GS (VS51T) GS3
125 U (VU1T)
ACMA
APE
https://blog.scooter-center.com/wp-content/uploads/2016/03/vespa-face-wrench.jpg
532
1060
Jenny Haas
https://blog.scooter-center.com/wp-content/uploads/2016/04/Scooter-Cejnter-SC-Logo-2016.png
Jenny Haas
2016-03-21 10:12:26
2016-03-21 10:12:26
Vespa tool check: BGM7913TL - Face wrench rear hub bearing-BGM PRO Ø37mm/43mm, 4-pin- Vespa VL, VN, VM, ACMA