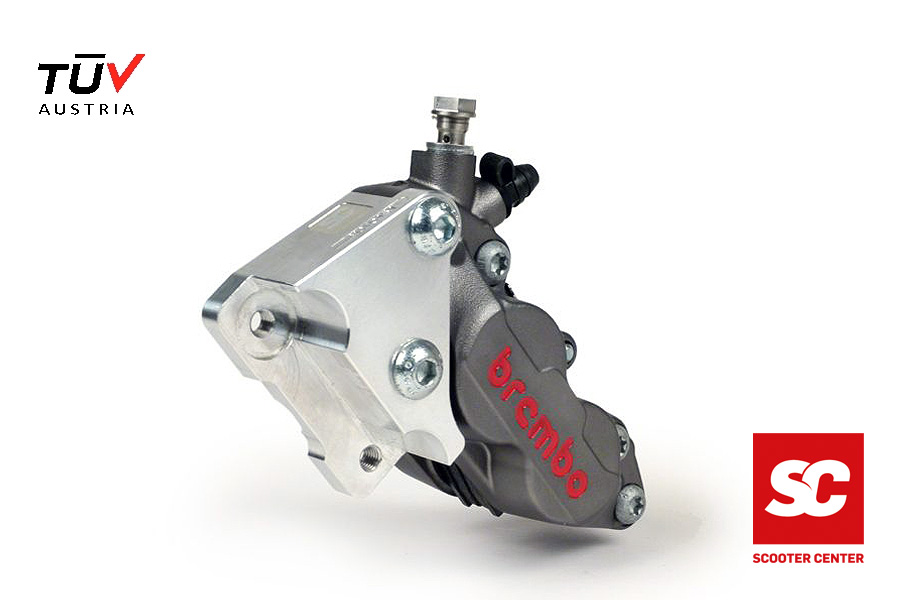 Braking distance up to 20 % shorter
The braking distance of a Vespa GTS with a Brembo caliper is up to 20 % shorter in comparison with a standard caliper.
If you ride for the first time a Vespa GTS with a Brembo caliper you'll immediately feel the outstanding braking power!
The Brembo caliper ensures a strong adherence between the tyres and road surface and, at the same time, allows you to finely regulate the braking power of your Vespa: both are essential features which make Brembo a reliable and high-quality brand since decades.
Now you have a good reason to mount Brembo calipers on your Vespa. So far there were no high-quality adapters for the Brembo Caliper with TÜV mark.
Brembo adapter with TÜV mark for Vespa GTS
Scooter Center offers you now the latest and high-quality Brembo brake technology with TÜV mark for Vespa GT/GTS/GTV models! These top-quality adapters fit modern Vespas with and without ABS!
[imagelinks id="46232″]
Available as single item or with the caliper at an attractive set price
The adapter is available as single item or in a convenient set.  The caliper of the set belongs to the Brembo P4 series and is provided with four pistons (2x Ø30mm + 2x Ø34mm).
the set includes the  adapter for Vespa GT/GTS/GTV models with or without ABS
caliper and adapter with TÜV mark
piston diameter 2 x 30 mm + 2 x 34 mm
two-piece, CNC aluminium
fixing hole pitch: 40 mm
incl. brake pad 07BB1535
brake fluid DOT 4 or 5.1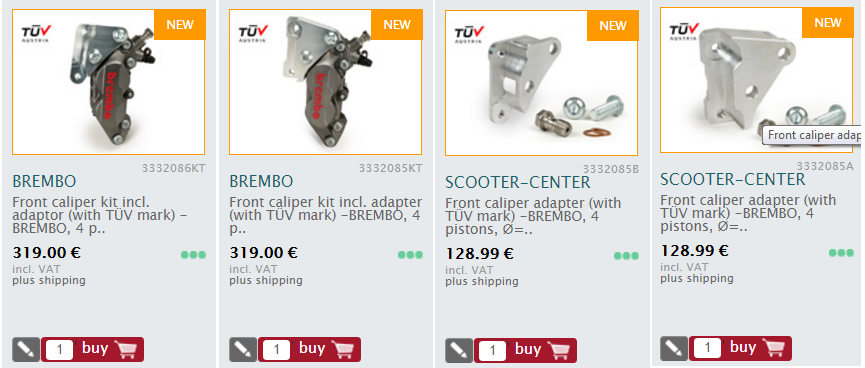 Development of the caliper adapter
The Brembo adapter is also known as "Peter-adapter" since it was developed by our friend Peter from the Austrian company "Peters Rollerteile". we took over the project last year and we now offer the adaptors as "Scooter Center" item with TÜV mark.
Here Peter's comment on the forum:
"…Hi dear Vespa-friends! As maybe some of you already know I decided to hand over the entire project for the Brembo caliper adapter with TÜV mark. After many positive talks I decided to hand over the entire project to the company SCOOTER CENTER which will then sell all the TÜV adapters. I would like to thank all the Vespa friend to whom I've given the chance to use this outstanding braking system with the TÜV mark. A big thank you goes to Frank from Scooter Center who leads the project…"
Peter
Tips for the brake hose
The hose of the braking system can still be used. Loosen the brake hose from its original clips in order to relocate it. Alternatively we suggest you to use the Spiegler stainless steel hoses, somewhat longer and of high quality. The hoses are also available in black and with black anodised fixings. Please contact us for further details concerning the Spegler hoses: they're available in many colours!
This post is also available in: Deutsch Italiano Français Español
https://blog.scooter-center.com/wp-content/uploads/2017/02/vespa-gts-brembo-adapter-mit-tuev.jpg
600
900
Emanuela Lucatuorto
https://blog.scooter-center.com/wp-content/uploads/2016/04/Scooter-Cejnter-SC-Logo-2016.png
Emanuela Lucatuorto
2017-03-13 09:57:29
2017-08-07 14:30:17
Vespa GTS Brembo caliper adapter with TÜV mark