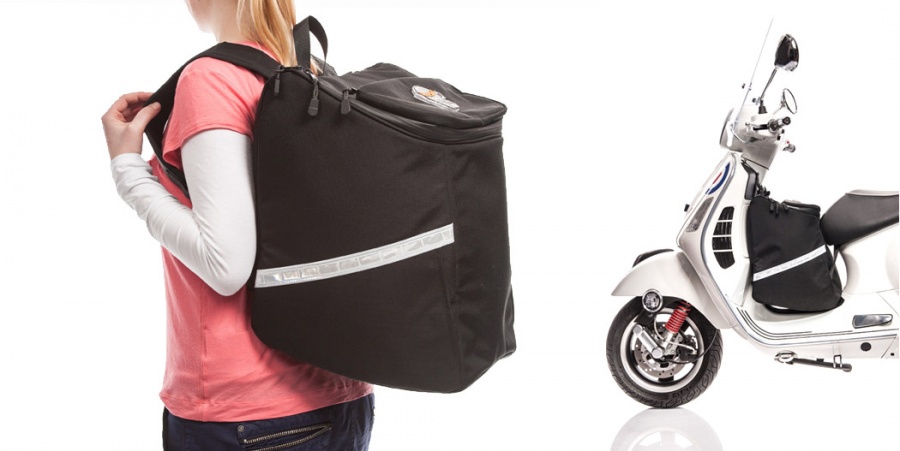 Leg shield bag -SEA'N'SAND T-Bag-
Storage space for long tours!
The foot well bag by Sea'n'Sand, a German company, offers exactly that. The travel bag for Vespa GT, GTL, GTV, GTS is available in black.
Handy bag for Vespa
The bag is attached to the leg shield and sits on the foot board of the Vespa. The handy bag can also be used as backpack.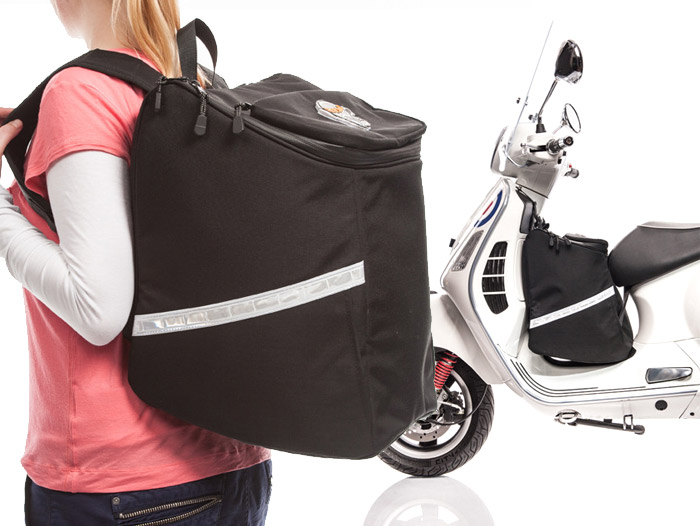 Video of the bag for Vespa GTS
For Sea'n'Sand it all started with a bag for modern Vespa GTS and Co. A made-to-measure foot well bag for current Vespa GTS, GT, GTV etc.
In the meantime the bag is also available for classic Vespa models Vespa PX. Functionality and quality remain the same, measures vary. Watch the video of the Vespa leg shield bag here:
ORDER Vespa bag HERE
Pictures Vespa bag
MADE-TO-MEASURE
The bag for GTS models and its variants GT/GTL was made-to-measure using high quality Cordura nylon. Vast 28 litres of storage volume mean a large luggage compartment, which can be perfectly used from the top.
WEATHER-PROOF & STURDY
The patented Cordura nylon is extremely wear resistant and sturdy. It is water-repellent and dries quickly. Zips are watertight and offer an overall protection of weather.
MULTI FUNCTIONAL
The bag can also be used as bag pack. This means that you can easily take valuable objects with you.
SAFE
There are four attach points, which grant a tight attachment of the bag to the vehicle at high speed, too. A standard luggage hook and the seat nose, as well as the supplied LOXX screws are used to attach the bag. These replace the screws of the inspection cover. Their spherical head is also part of the smart attaching system..
HANDY
You can still easily open the seat with the bag attached. Filling up the gas tank is possible with the bag attached. A width of 39cm is also no problem. There is sufficient space for your feet, also on a long tour.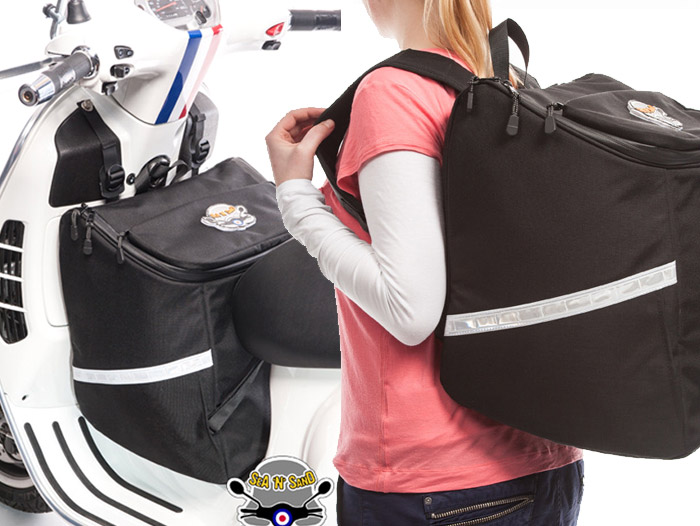 STORAGE SPACE
The luggage compartment has a volume of 28 litres and is equipped with nice lining, which makes packing quick and easy without objects being caught. An additional compartment for odds and ends is perfect for mobile phones, a separate glasses case with Velcro keeps sunglasses easy at hand.
ATTACHING
The bag is easily attached. You only need a so-called torx screwdriver size T25 (often part of a car toolbox) and a fork-wrench spanner or a ring wrench in wrench size 9.
QUALITY
The bag is made of Cordura, which is in terms of outdoor quality beyond all doubt. Combined with fine and neat processing this bag offers a real added value, since it can be used for years.
CONCLUSION
First choice for tourers and others. The Sea'n'Sand foot well bag will most certainly be the reason to do the next shopping with your scooter and not the car!
ORDER Vespa bag HERE
This post is also available in: Deutsch Italiano Français Español
https://blog.scooter-center.com/wp-content/uploads/2015/10/beinschild-tasche-vespa-gts.jpg
451
900
Jenny Haas
https://blog.scooter-center.com/wp-content/uploads/2016/04/Scooter-Cejnter-SC-Logo-2016.png
Jenny Haas
2015-10-29 13:26:16
2015-11-03 13:41:04
Travel bag - leg shield bag for Vespa GT, GTL, GTV, GTS