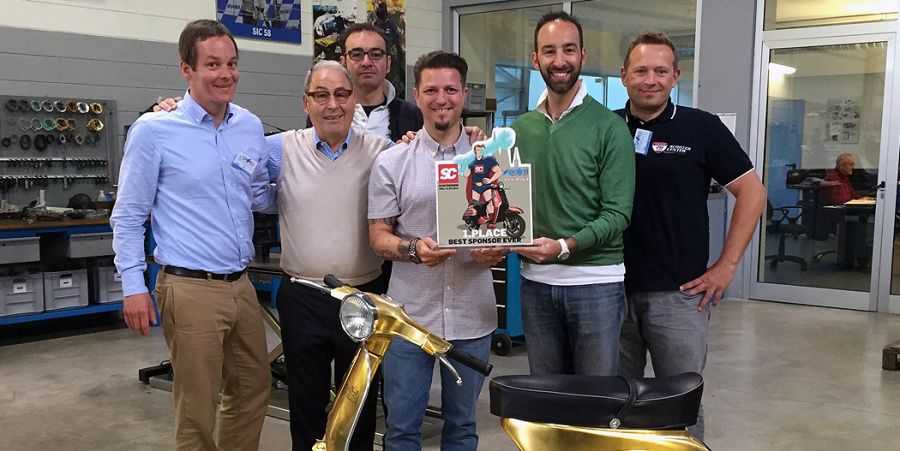 Inside Polini
Part 3 of our trip to Italy takes place in Bergamo at Polini.
1. Rimini Lambretta Centre 20th Anniversary Open Day / Rimini
2. Teste Cromate Scooter Club Ride Out / Rimini
3. Polini plant tour / Bergamo
4. Visit of the Casa Lambretta and Lambretta Museum / Milan
On the fourth day of our trip to Italy we were still flashed and we had another two highlights on our schedule::
Visiting POLINI in Bergamo
Visiting the Lambretta Museum of Vittorio Tessera including a quick check of the new CASA LAMBRETTA parts
Scooter Center visits POLINI in Bergamo

Polini is famous for Vespa tuning parts and scooter and motorcycle motor sports. You can buy high-performance tuning products of high quality at Scooter Center at a great cost-benefit ratio: POLINI Scooter Shop
The roots of the family business are a small push bike production site in Bologna. After WWII Polini Battista initially built bicycles. We got to know his sons and grand-sons during our visit. Today they very successfully continue to manage the business.
The video
A
perfect family business.
We meet at least three generations of the family. All of them working in various positions within the company. We were introduced to yet another family member at every corner. They work in the company as
engineers, design engineers, photographers, designers and managers
.
Today, only a badge and some old pictures by the entrance to the Polini headquarters remind of its roots. Today Polini is no longer in the bicycle business. Or almost. Polini wouldn't be Polini if they didn't even tune an E-Bike.
You can now purchase a tuning kit for e-bike engines of e.g. Bosch or Panasonic with considerable performance enhancement from 25 to 50 km/h.
But lets turn back to real motor sports.
Handing over the Customshow cup
We were looking forward to this meeting, because Polini is one of our most important suppliers and one of our oldest business partners. Polini has supported our Scooter Center Customshow SCOOTERSHOW from the very first day. So now, after 8 years, it was high time to finally say thank you on site and handing over a current Custumshow cup.
We were shown around the families hallowed halls, from development to labs with stress tests and several dynamometers, from garage and assembly halls to warehouse and logistics.
We were very impressed by the size and the open-minded and very warm welcome.
You know who we are. The long journey has to pay off and business didn't come up short: In the future we will have an even larger Polini product range, for example:
Polini CP – carburetor
Polini CP carburetors have been part of our product range for a long time.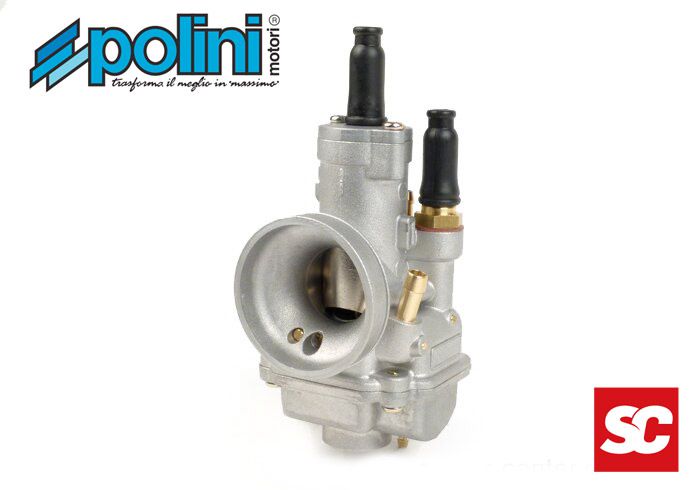 It has gotten around that these easily adjustable carburetors also run perfectly on Vespa Smallframe and Lambretta. Its areas of use are limited, because only these sizes are obtainable: 17,5 / 19 / 21 / 23 / 24 (Evolution).
In-house development by Polini, MADE in ITALY. PWK – jets fit!
Polini brake pads
The brake pads are used in Polini Cup races and other racing series. They fill their drivers with enthusiasm.
You can purchase Polini brake pads that fit your scooter at your Scooter Center Shop.
Polini modern Vespa exhaust
Brand new Polini exhaust for new Vespa models:
Vespa GT 125 i.e. 60
Vespa GT 250
Vespa GTS 125 i.e. Super
Vespa GTS 250
Vespa GTS 250 i.e.
Vespa GTS 300 i.e. Super
Vespa GTV 250 i.e.
Vespa GTV 300
Vespa GTV Super 300
Great looks, which have been especially adapted to the flow of the Vespa chassis. Great processing and finish! The video proves the full sound.
Available soon with and without catalyzer / homologation at Scooter Center
Modern Vespa-Shop
.
Thank you POLINI
We would like to thank Roberta and the Polini family once again, knowing that they read our blog from time to time :-)
Pictures POLINI
Photos of our visit at POLINI
This post is also available in: Deutsch Italiano Français Español
https://blog.scooter-center.com/wp-content/uploads/2015/05/inside-polini.jpg
451
900
Jenny Haas
https://blog.scooter-center.com/wp-content/uploads/2016/04/Scooter-Cejnter-SC-Logo-2016.png
Jenny Haas
2015-05-06 15:50:49
2015-10-23 11:22:12
Scooter Center goes Italy - 3 Inside Polini - Polini plant tour