Scooter Center trip to Italy – Part 1 Rimini Lambretta Centre
The Scooter Center-Team on a trip to Italy: Last weekend Oliver, Philipp and Heiko started their trip to Italy. They had a tight schedule, but the long way had to pay off: during the weekend they covered more than 3,000 km.
Stops during their trip to Italy:
Rimini Lambretta Centre 20th Anniversary Open Day / Rimini
Part 1
Rimini Lambretta Centre 20th Anniversary Open Day / Rimini
Following in the tracks of the history of Scooter Center by the Lago di Garda
Video of the first leg
Lake Garda was the first interim target.
We visited old friends, enjoyed Italy and wallowed in memories. In its 23 years of the
history of Scooter Center
Lake Garda plays a crucial role.
Back then, Oliver Kluger bought the very first scooter for Scooter Center and transported it to Germany. The Scooter was a Vespa Rally TS 125. Later, the Vespa was processed in Cologne and resold to Volker, who is still driving it today. He was our first customer and naturally sticks to us. You rather know us for a quick delivery of spare and tuning parts for scooters. However, we currently have several used Vespa scooters on offer.
The night was short and the journey continued early on Saturday morning, heading to Rimini. The track to travel sounds like music to our ears: "Verona, Mantova, Modena, Bologna, Imola, Rimini". Our anticipation grows, the closer we get to our destination.
The Rimini Lambretta Centre and Dean Orton
For years the Rimini Lambretta Centre has been a good customer and supplies us with 5 speed Lambretta Cyclone gearbox, Maxi Flusso Lambretta intake manifold and the new Casa Lambretta Performance cylinders.
The 5 speed Lambretta gearbox is more than a mere part of a scooter to Dean. You know this once you saw the CYCLONE 5 tattoo on his forearm. We mainly supply BGM products to RLC, which are used for their restorations. Lambretta restorations are the main business of Dean Orton and his team. RLC loves and lives Lambretta. Overwhelming Lambretta scooters are created in an impressive garage. Our anticipation and expectations were immense and we should not be disappointed.
Rimini in the region of Emilia Romagna
"Rimini: the Adriatic, centre of beach tourism – a seaside resort with a long tradition, beach, sun, sea." But we had more important things to do! Our destination was the Zona Industriale: The 20th anniversary and Open Day of Rimini Lambretta Centre.
After a heart warming welcome by many old friends, we started to put up our stall. This was quickly accomplished, since Philipp had sent the products we wanted to display to a wrong address… :-) Luckily we were allowed to display products from the RLC stocks.

Rimini Lambretta Centre Open Day
The grounds around the RLC were quickly filled with mainly Italian and English Lambrettisti. There were overall 500 visitors with about 120 Lambrettas and only a handful of Vespas.
Dean really dished up for the 20th anniversary of RLC. Entering the shop you were welcomed by a world record Lambretta: The fully faired Lambretta that broke the 200 km/h limit on August 8th, 1951. Romolo Ferri set the world record on a motorway that was blocked from traffic between Ingolstadt and Munich. The mechanically supercharged 125cc engine is told to have had about 21 HP.
A huge transportable pizzeria supplied finest specialities from the region including sufficient wine, water, beer and coffee.
Overwhelming Lambretta test drive
RLC had managed to have a circuit blocked from traffic, so that you were able to test drive the scooters within the industrial estate.
Alongside scooters, which have been restored by RLC, there were mainly scooters from the Casa Lambretta collection available for test rides. The two Lambretta Innocenti two-cylinder prototypes were at the centre of attention. In the past months these were restored by RLC for Vittorio Tessera. The June edition of Scootering will present the restoration of the interior of the engines. We also did a test ride on the Innocenti two-cylinder prototypes. We can only say: Too sad they didn't make it into serial production.
Lambretta with 305cc and 50HP
305cc and more than 50HP – the most violent scooter we ever rode: BSG CasaPerformance 305cc prototype. CNC engine block with 305cc BSG cylinder, Cyclone5 5 speed gearbox and BGM PRO Superstrong clutch. This monster has more than 50 HP. The Lambretta's programmable ignition was downsized to 45 HP for the test drives. On our cruise on Sunday we were able to extensively test it. The fitting video will follow in the second part of this article. Watch this space!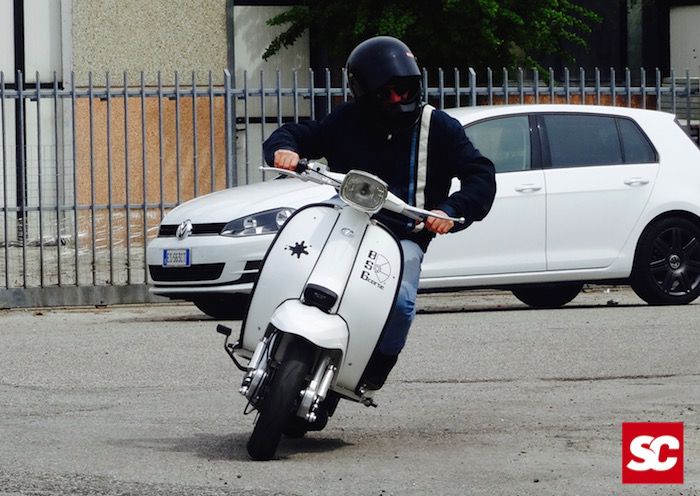 BSG Corse brought scooters with overwhelming performance. Vespa Smallframes were those scooters that chased around the circuit with immense revs. These were later joint by the legendary Signore Angelo Zirri and almost the entire Smallframe tuning scene.
Even the greatest events have to come to an end. So at some stage we had to dismantle everything. But luckily we still had a joint tea and nighter with a fantastic view on the mountains left!
Nighter in the mountains in the region of Emilia Romagna
The joint meal and all-nighter took place in an Osteria in the mountains. A fantastic site with view on the lights of Rimini and San Marino in the distance.
Many kind talks, many Italian snacks and some cups of wine later we fell into our beds in the early hours of morning. It was a short night with only a little relaxation. Only several hours later we were meant to get to the next highlight. On the cruise we were able to test the 305cc prototypes for their fitted BGM parts.
All pictures of the first leg of our trip to Italy:
This post is also available in: Deutsch Italiano Français Español
https://blog.scooter-center.com/wp-content/uploads/2015/05/scooter-center-italy-1.jpg
451
900
Jenny Haas
https://blog.scooter-center.com/wp-content/uploads/2016/04/Scooter-Cejnter-SC-Logo-2016.png
Jenny Haas
2015-05-06 12:27:25
2015-10-23 11:29:47
Scooter Center goes Italy - 1 Rimini Lambretta Centre