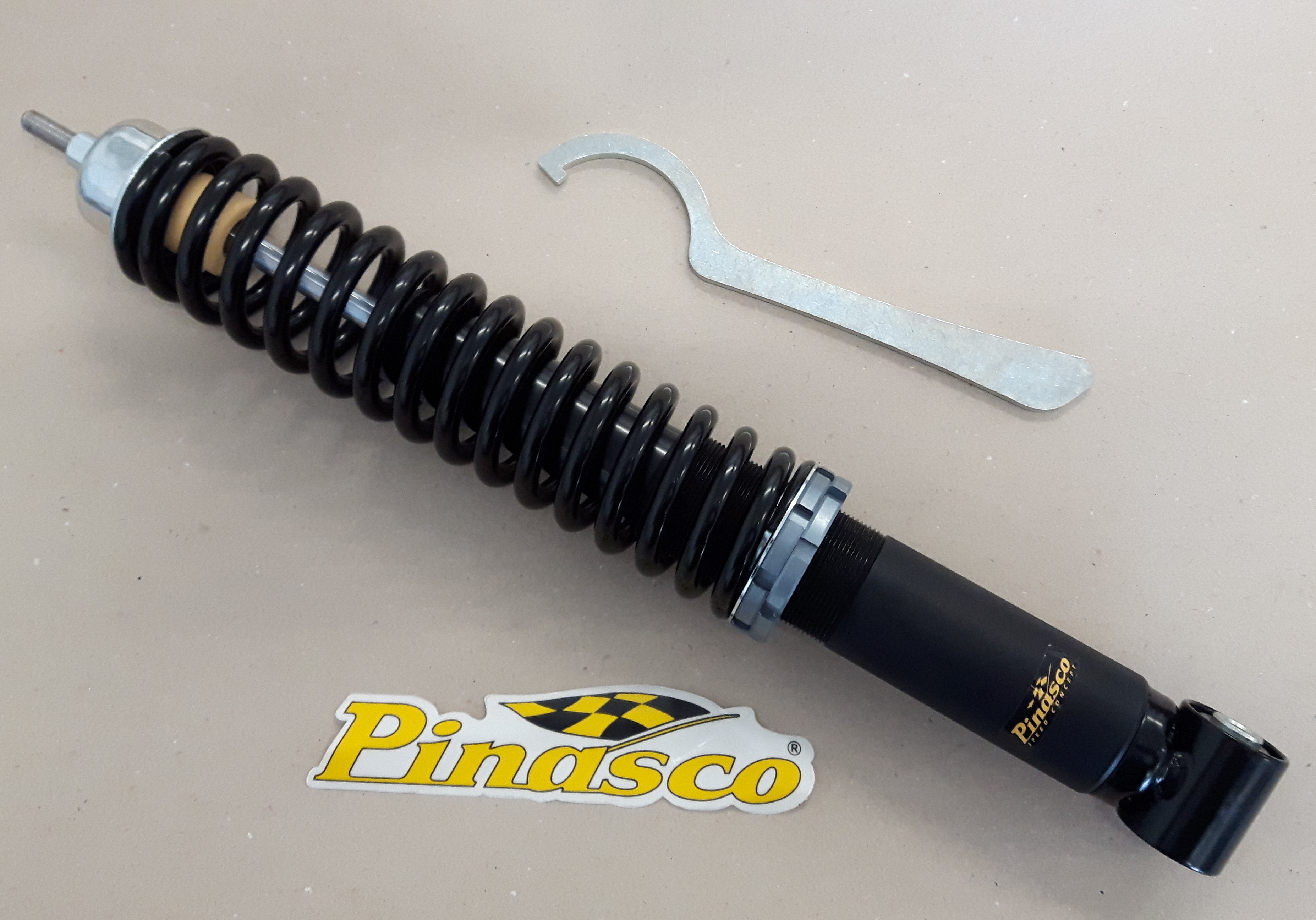 Shock absorber for wideframe Vespa
When it comes to Vespa, Pinasco increases work on older Vespas like Faro Basso, Struzzo, GS3…
The rear shock absorber for wideframe Vespa models is their great new product.
Rear shock absorber -PINASCO- Vespa Wideframe 1953-57, Vespa VM1, VM2, VN1, VN2, VB1, VL1, VL2, VL3, GS150
The Pinasco shock absorber fits those wideframe Vespa models, which do not have spring and absorber mounted individually in the rear shock absorber, without the need for further work on lower or upper shock mounts.
You may adjust spring preload and adapt the shock absorber to your individual preferences or varying load conditions.
The shock absorber is made in Italy and available in plain black. This makes the shock absorber fit discreetly in the general looks of a classic Vespa.
The two lock nuts only come to your attention on a second glance.
When exchanging the shock absorber you should also take a look at the upper silent rubber.
The Pinasco shock absorber fits the following wideframe models:
125 (VM1T)
125 (VM2T)
125 (VN1T)
125 (VN2T)
150 (VB1T)
150 (VL1T)
150 (VL2T)
150 GS (VS1T)
150 GS (VS2T)
150 GS (VS3T) GS3
150 GS (VS4T) GS3
150 GS (VS51T) GS3
This post is also available in: Deutsch Italiano Français Español
https://blog.scooter-center.com/wp-content/uploads/2016/05/Pinasco-PN-25441009.jpg
2592
3708
Jenny Haas
https://blog.scooter-center.com/wp-content/uploads/2016/04/Scooter-Cejnter-SC-Logo-2016.png
Jenny Haas
2016-06-01 10:52:48
2016-06-01 10:52:48
Rear shock absorber PINASCO Vespa Wideframe 1953-57, Vespa VM1, VM2, VN1, VN2, VB1, VL1, VL2, VL3, GS150