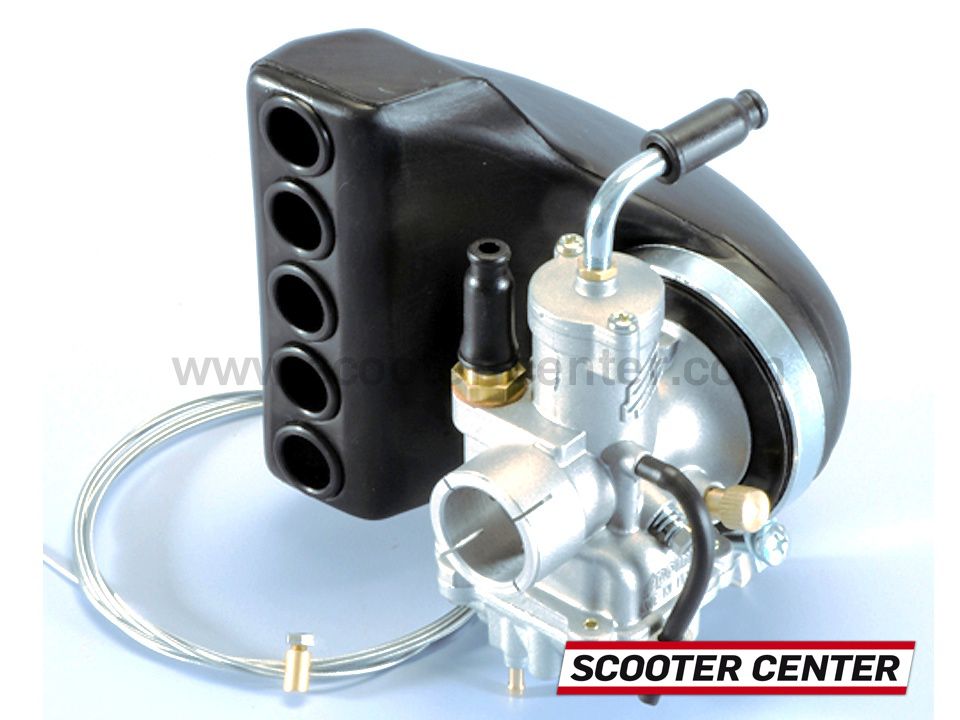 Polini Vespa Carburetor Smallframe
Polini Motori continues the development of its CP carburetors. Innovative carburetors, where every single part has been designed, developed and produced by the company of Bergamo and it is 100% made in Italy.
The range of the Polini CP carburetors enlarges with the new models which assure an easy assembling without any modification to the original manifold. The CP Polini have a rigid connection and are dedicated to the mythic Vespa 125 primavera ET3. The connection between manifold and carburetor is rigid with clamp as the original one fitted on the Vespa 125 and they are supplied with air box with upgraded intake. Available in diameters of 19 and 21 The inlet pipe is very short and it features an exclusive concentric design and a geometry that optimizes the air flows when the gases pass through. The overflow of petrol in the atomizer has been designed to ensure correct flow dynamic at every position of the throttle valve when opens. The hole where the petrol enters and the larger needle allow the constant draft even in the most extreme conditions. The float level, completely made of plastic, and the needle seal are carefully controlled in the production department to ensure the same standard of efficiency over time. These features considerably simplify the setup of the carburetor. Thanks to the extremely sophisticated calibration, the petrol-air flows, main and low jets, have been designed to achieve the best performance with lower consumption. The compact size of the new carburetor is the result of a careful and meticulous management of the inner space and the maximum efficiency of all the components, subjected to strict controls. To ensure an easy and precise assembly on the best sellers engines and its compatibility to different filter boxes, both originals and racing, flanges with different diameters are available.
Soon available in our Vespa Scooter Shop.
Polini Vespa carburetor – 100% Made in Italy
This post is also available in: Deutsch
https://blog.scooter-center.com/wp-content/uploads/vespa-vergaser-smallframe-polini-cp.jpg
720
960
Heiko Lepke
https://blog.scooter-center.com/wp-content/uploads/2016/04/Scooter-Cejnter-SC-Logo-2016.png
Heiko Lepke
2013-07-02 09:22:09
2013-07-02 09:22:09
New Polini Vespa carburetors Smallframe