NEW: Clutch BGM PRO Superstrong "CR" for Vespa
Our BGM PRO Superstrong clutch for Vespa Largeframe engines has proven excellent performance time and again. It was now updated.
You can fit the CR clutch plates of the "Superstrong CR" version without further ado.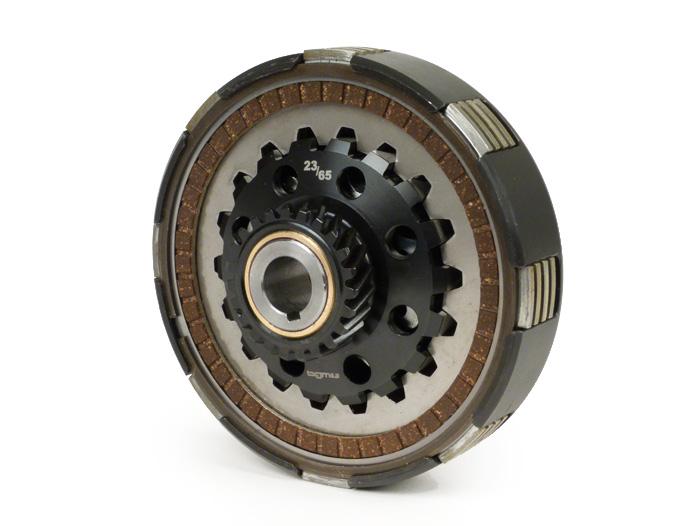 Fully assembled clutch available
The upper disc was subject to special treatment and offers space for a reinforced top plate.
Fitting the clutch remains the same as before.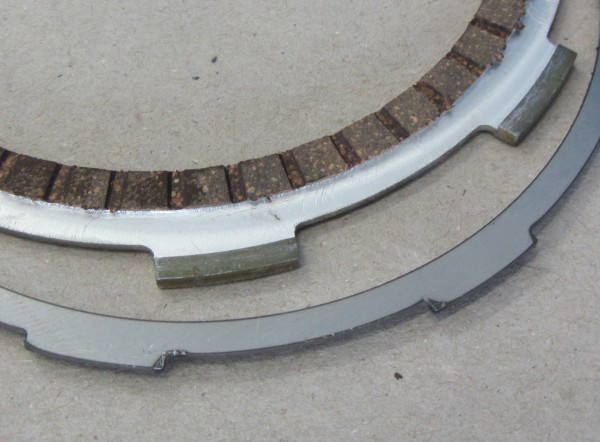 Easy assembly
It's usually sufficient to adapt the clutch cover, as for a Cosa version.
You will find the relevant information in the download section of the product in our shop.
The outer diameter of the CR-version's clutch spider did not change.
We have merely adapted its contour for the CR-discs to fit without a need for changes.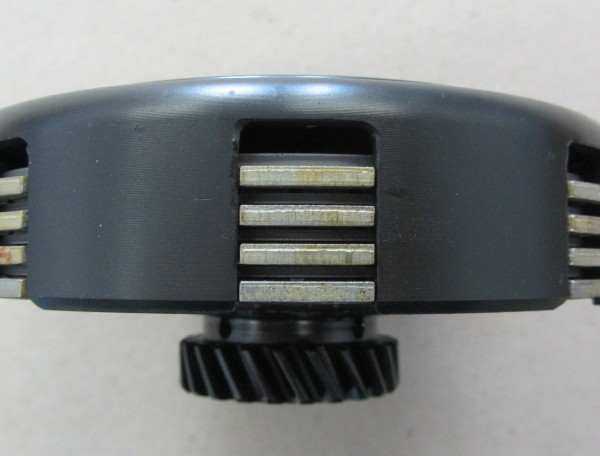 Remaining parts like hub, sprocket and steel discs are the same as in the Superstrong Cosa version.
New Vespa clutches:
Superstrong CR is available in the following variations:
Plug & Play
Vespa PX80/PX125/PX150/Cosa125/Cosa200 (the large primary drive wheel features 67 or 68 teeth)
Vespa PX200 (the large primary drive wheel features 65 teeth or the BGM primary drive wheel features 64 teeth)
Construction kit
You may also put your own CR clutch together.
Recommendation for torque monsters
You have a high-torque engine and want to change the number of teeth of your primary drive wheel to 64? We recommend using a reinforced repair kit as well. Reinforced springs have an improved jolt damping and deal mechanically better with a higher torque of monster engines than the standard version.
Advantages of CR – plates
We have already mentioned the advantages of CR plates for high performance engines in our post on clutch plates. This is a short excerpt:
"How can such a small, flat clutch plate be better than the larger cork version?"
One: material with better friction value. Two: "effective radius".
The outer diameter in connection with the height of the lining results in a certain radius, which is decisive
This means that with the same diameter, the lever arm, which counters the torque at the hub, is longer, since the distance between the centre of the lining and the crankshaft pivot point is larger. Which basically is the simple lever principle. So to say: it's "easier" for the clutch lining to deal with the torque.
As you can see, there are two reasons why a clutch with CR-plates can transmit higher torque at the same contact pressure of springs. It is general, omnipresent physics and the material used for clutch lining.
A CR-plate set stands for a low movement of lever and a clear and freely working clutch. The plate material also guarantees easy and secure shifting of gears in high revs.
Oil for clutches with CR-plates
We recommend to use oil with Jaso- MA / MA2 or API GL-4 specifications.
For instance Valvoline 10W40 MA2.
https://blog.scooter-center.com/wp-content/uploads/2016/03/bgm-pro-superstrong-honda-cr-vespa.jpg
532
1060
Jenny Haas
https://blog.scooter-center.com/wp-content/uploads/2016/04/Scooter-Cejnter-SC-Logo-2016.png
Jenny Haas
2016-04-01 11:48:26
2016-04-01 11:48:26
Clutch BGM PRO Superstrong CR for Vespa