bgm PRO shaft seals made of high-quality and ethanol-resistant (E10) FKM/Viton®*
Brand new in our shop are the new bgm PRO Simmerrings for many Vespa and Lambretta models: Shaft seals bgm PRO
optimum protection
double sealing thanks to dust lip
recommended for each engine Original or
tuned high-performance engine
twice as temperature resistant
suitable for extremely high speeds
permanently alcohol resistant -perfect for scooter meetings ;-)
very good gas impermeability
high thermal stress
very resistant to aging
bgm PRO Wellendichtringe Viton® - Simmerringe Vespa und Lambretta
WHY SHAFT SEALING RING MADE OF FKM/VITON®
The material FKM (fluorocarbon rubber) is extremely resistant to heat, friction and fuel/ethanol. Current super fuel in Germany already contains up to 5% ethanol per se.
In other countries the ethanol/alcohol content is significantly higher. Conventional radial shaft seals can swell or soften when in contact with fuels containing ethanol.
The bgm PRO FKM/Viton® shaft seals offer perfect protection against this. In addition, Viton is twice as temperature resistant as conventional (blue) NBR shaft sealing rings , has very good gas impermeability and is also very resistant to ageing.
WHAT ARE THE SIMMERRINGS SUITABLE FOR?
An engine equipped with bgm PRO FKM/Viton® rotary shaft seals can therefore also be operated with E10 fuel (10% alcohol content). The high-quality brown Viton®* sealing material is permanently resistant to alcohol and is also suitable for engines with high temperature loads and high speeds.
bgm PRO FKM/Viton® radial shaft seals are therefore suitable for all engines, whether original or tuned high-performance engines
.
For reasons of environmental protection and in favour of maximum flexibility of the sealing lip, we deliberately avoid additional PTFE/Teflon®* loading of the sealing lip
ADVANTAGES OF BGM PER SHAFT SEAL!
The BGM PRO rotary shaft seals offer a double sealing as an additional feature. All rotary shaft seals that seal against the atmosphere have a so-called dust lip. This is positioned before the actual sealing lip and keeps dust, dirt and moisture away. This further increases the already good stability. INDIVIDUAL & AVAILABLE IN A SET The BGM PRO FKM/Viton® oil seals are available individually and in sets for almost all Vespa and Lambretta engines.
Buy bgm PRO oil seals here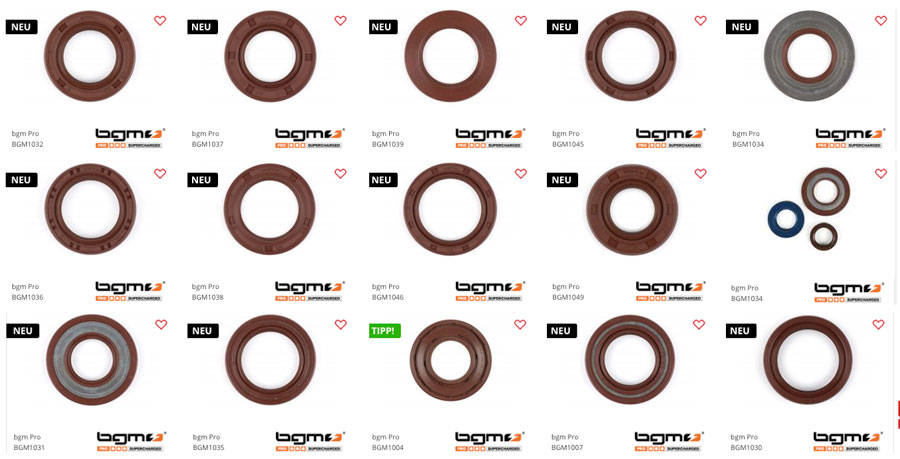 Simmerring sealing ring Shaft sealing ring for Vespa and Lambretta #Shaft sealing ring #Simmerring #bgm PRO
*Viton®/Teflon® are registered trademarks of DuPont Dow Elastomers
This post is also available in: Deutsch Italiano Français Español Nederlands
https://blog.scooter-center.com/wp-content/uploads/2020/09/Wellen-CoverYT-2.jpg
932
1440
Heiko Lepke
https://blog.scooter-center.com/wp-content/uploads/2016/04/Scooter-Cejnter-SC-Logo-2016.png
Heiko Lepke
2020-09-29 17:22:11
2020-10-05 13:09:24
bgm PRO Oil Seals / Simmerrings FKM/Viton®