10km/h faster without changing anything on the Vespa GTS engine?
SPEEDWHEEL – Ingenious tuning part for more top speed from KÜBLER RACING for Vespa GTS HPE 300 models (from 2019)
10km/h higher top speed with your Vespa GTS 300 without changing anything at the engine?
With the changed Tonrad SPEEDWHEEL from Kübler Racing this is quite simply possible .
The tone wheel is a slotted steel disc on the rear wheel.
This is used to determine the wheel speed for the ASR/ABS control.
Plus 10km/h Final speed
No intervention in the motor required
No problems with retrofitting
Not visible from the outside
No increased wear

Order here +10km/h Vmax
REVERATING SPEED LIMITER
Although the Vespa GTS HPE has more power at the rear wheel than its predecessors, the top speed unfortunately does not benefit from it due to an early onset speed limiter. This is partly due to the slightly faster speedometer display. At a real 120km/h the speedometer shows 130km/h already.
From speedometer 130km/h on, however, the on-board electronics regulate consistently.
FINAL SPEED
This is exactly where the new tonewheel from Kübler Racing comes in. What sounds like magic at first is ultimately simple physics. The new tonewheel has a modified geometry which now transmits the exact, real speed to the control electronics. Now the indicated 130km/h are also real 130km/h on the road. The speed limiter therefore also reaches a full 10km/h later, although the speedometer shows as much as before the conversion (130km/h).
Ideally the higher final speed can be confirmed by a comparison with a GPS speed measurement (e.g. via mobile phone) before and after the conversion.
In the stored performance diagram you can see the difference between how much km/h the speed limiter reaches before and after the conversion: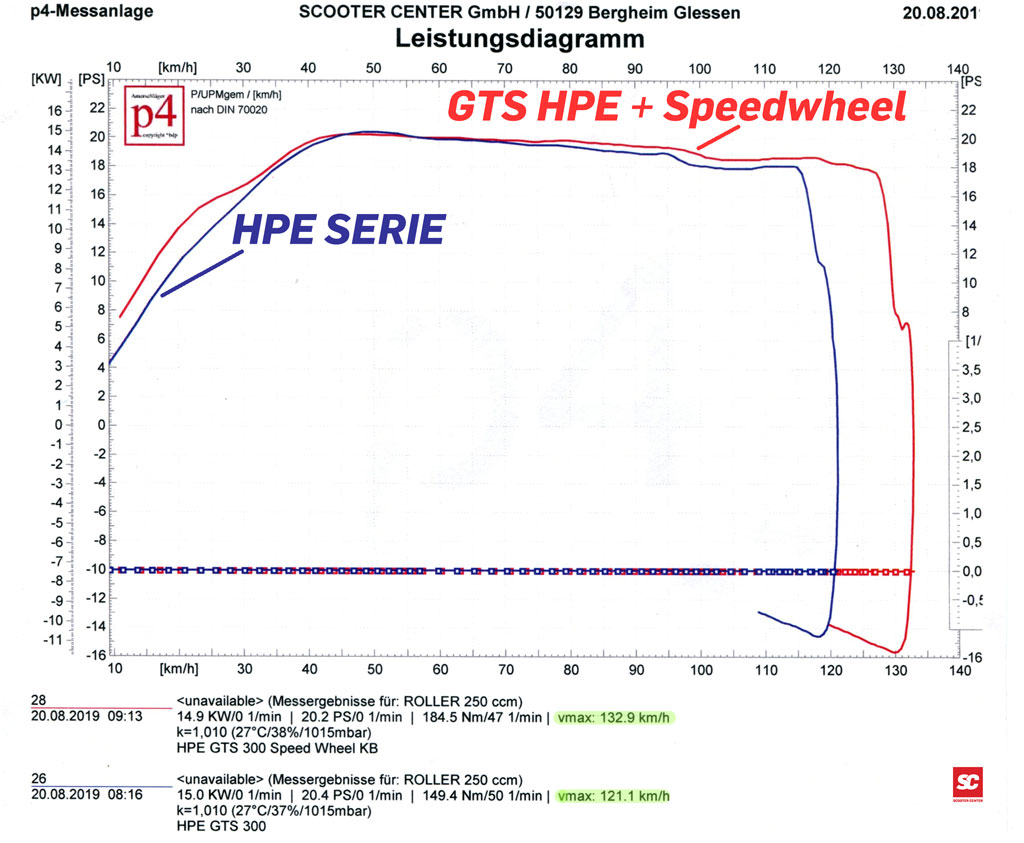 ASSEMBLY & ASR RECALIBRATION
The exhaust and the swingarm on the right side of the vehicle (in the direction of travel) are dismantled for retrofitting. After the simple exchange of the tonewheel (screwed to the rear wheel rim / by 5pcs. M6x20 hexagon socket screws) only the ASR system is recalibrated, that's all. The ASR recalibration can be easily done by yourself using our manual.
Order your Speedwheel here!
This post is also available in: Deutsch Français Español Nederlands
https://blog.scooter-center.com/wp-content/uploads/2019/08/speedwheel-vespa-gts-tuning.jpg
960
778
Heiko Lepke
https://blog.scooter-center.com/wp-content/uploads/2016/04/Scooter-Cejnter-SC-Logo-2016.png
Heiko Lepke
2019-08-21 12:58:51
2019-08-21 13:02:13
+10km/h SPEEDWHEEL – Vespa GTS Tuning for GTS HPE 300